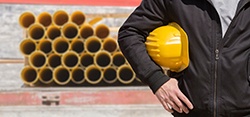 Materials for a construction project are crucial. Without them, the project will not get done. How can you protect these supplies and avoid substantial financial losses?
There are multiple options for contractors, but the right solution will depend on the project and your role. Most often contractors will turn to builder's risk policies and installation floaters.
What is the difference between the two?
An installation floater provides protection for contractors for materials and labor when a builder's risk policy either doesn't exist or isn't appropriate for the given project. It is largely used by trade contractors. However, general contractors also use installation floaters for remodeling or rehabilitation work – projects focused on improvement rather than new construction. The floater covers materials in transit to a jobsite as well as those staged offsite intended for a specific project.
Meanwhile, builder's risk policies are largely designed for new, ground up construction projects. They are intended to cover property in the course of construction, the entire structure that is being constructed.
Many mistakenly consider an installation floater as redundant, believing the project owner's builder's risk policy will respond, however, there are numerous instances where this is not the case.
For example, the insured's own truck is carrying expensive materials intended for a specific project. While in transit to the jobsite, an accident occurs and the materials are damaged. The owner's builder's risk policy does not respond. Without an installation floater, the subcontractor could experience a significant loss.
Similarly, the subcontractor could be holding materials offsite at a temporary location, ready to be transported to the jobsite. An intruder breaks in and steals or vandalizes the materials. If not covered by the owner's builder's risk policy, the subcontractor could be left in a tough situation.
Exclusions
As with any policy, there are exclusions to installation floaters. One standard exclusion is existing buildings or structures. This exposure is more properly covered under the owner's property policy. Another is faulty workmanship – an installation floater is not going to pay to repair faulty workmanship.
Most installation floaters exclude the following causes of loss, unless added back via endorsement: earthquake, flood, governmental action, nuclear hazard, war & military action, ordinance, or law. Consult your risk advisor to understand what your policy does and does not cover.
Earthquake coverage, for example, is commonly excluded but can be purchased at additional premium. As much as earthquake coverages seems irrelevant to some geographic areas, it can also encompass earth movement and landslides. Consider a landscaper working on terracing alongside a bank. There is a rainstorm bringing 7 inches of rain in one day, causing the earth to slide in the work area. This would be considered earth movement, and may be excluded without proper coverage. It is a real exposure. If not properly covered, the landscaper would have to redo all the labor and purchase additional materials for the project at their own expense.
First Party Coverage
An owner's builder's risk policy may not have the specialty contractor properly protected or first in line for claims payment. The owner could propose the general contractor and/or subcontractors become responsible for their deductible. Whereas the subcontractor's installation floater would have the subcontractor as the first party covered. If a loss occurs, the subcontractor would go directly to their own insurance carrier for a check instead of having to go through the owner's builder's risk policy, often saving the subcontractor significant time and allowing the subcontractor to control the coverage purchased and the deductible amount.
Through the owner's policy the subcontractor is not first in line for claim payments. As they work to sort out the details and the cause of the loss, the subcontractor could be waiting months or years to get reimbursement. This can result in significant cash flow issues.
What is the best solution for you? Do you need an installation floater for your project? Taking adequate time to review your contracts and discuss with your risk advisor is the best way to determine the most effective and appropriate solution for you.