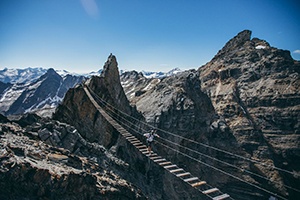 What scares you? Is it clowns like the 2017 movie adaption of Stephen King's It? Maybe it's public speaking or blood and needles? If you relate to any of these, you're not alone. This Washington Post article has all of them in their top 12 list of fears.
For me, it's acrophobia, a fear of heights. I'm not sure where it came from. Perhaps it was my summers in high school painting the overhangs of old houses on a flimsy extension ladder. In any event, I prefer to avoid heights, namely situations that leave me up high and exposed.
On a recent trip with my 14-year-old son William, I came face-to-face with my old nemesis, acrophobia. Not that I planned to.
About six months prior I received an email invitation to join a group of fellow YPO leaders for a parent-child "hiking adventure" with Canadian Mountain Holidays (CMH) in the Columbia Mountains of British Columbia, near Banff, Alberta. Since I like "adventure" and "hiking," this seemed like a natural opportunity to spend some one-on-time with one of my kids.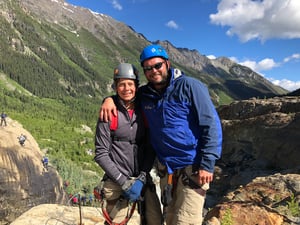 After flying into Calgary, we drove west about four hours where we were met by a helicopter to take us on the final leg to the Bobbie Burns Lodge. They sent us to the gear room to get a harness, helmet, lanyards, and carabiners…that's when I realized that the hike I had signed up for was really a mountain climb.
Over the next three days we traversed up and down Mount Nimbus and the Conrad Glacier using the via ferrata, or iron road, built by the CMH guides. This particular route is the longest of its kind in North America. And it was truly epic.
We crossed Indiana Jones-style suspension bridges between peaks, one being 3300 feet above the rocks below. We tippy-toed around the face of a cliff, winds swirling and sleet raining down. We scaled nearly vertical walls using the iron ropes to walk up the face of the peaks. We hiked over the glacial crevasses. And we swayed on wet cable bridges to cross raging glacier-fed streams. If you think I'm being overly dramatic, take a minute and a half to watch this video!
To say I had moments of trepidation would be an understatement. There were instances where I wished I had never agreed to this trip. And other times I was mad at the ringleader of our group for not telling us ahead of time what we would experience. But through it all, I stayed the course. Besides burning thousands of calories and experiencing almost indescribable natural beauty and scenery, I also realized I had faced my fear and at a minimum played it to a draw.
How? By staying focused on the task at hand. In this case, it was the next step in front of me. I knew I couldn't look down or back. I just kept moving forward.
It's fair to say we also had great equipment and expert guides. Oh, and having a group of fearless teenagers blazing the trail in front of us didn't hurt! How could a group of parents chicken out when our kids couldn't be slowed down?


What's The Risk?
The burden of fear stymies growth in exchange for safe experiences. The risk is a life less rich filled with missed opportunities and lost moments. And often our fears are unfounded. If we would just keep going, without looking down or looking back, we would find we can make it through.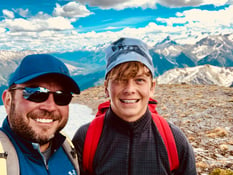 My son and I had an amazing trip. Every day I watched his confidence grow. He loved being in the front of our group with guides Tom, Lenny, and Jean-Francois.
The thing is, if I would have known exactly what the trip entailed, would we still have gone? I'm not sure. And that's concerning for me. What else have I turned down or pivoted from due to (unnecessary) fear?
The next time fear and angst begin building inside you, stop thinking so much and just start doing. One step in front of the next without looking back.