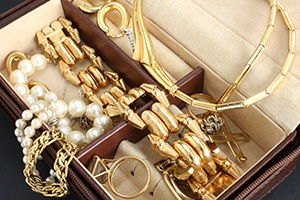 Do you know if your jewelry is covered under your homeowners or renters policy? Depending on the value of your jewelry, the answer could be yes, but not the full value. Jewelry can be very expensive to replace. Many people assume insurance policies, especially homeowners, will cover all valuables including jewelry. Unfortunately, it's not until a claim is filed you realize your policy doesn't cover what you think it does.
Inventory And Appraise
To determine whether you have the proper insurance coverage for your jewelry, take inventory and have it appraised. It is not until you know the full value will you know if you have the right insurance. To help determine value, keep receipts from purchases and certificates of gemstone quality. It's especially important to do this with jewelry pieces that are heirlooms or of great value. Take pictures of all items to help with identification. Keep these in a safe spot, like a safety deposit box.
Review Your Coverage
Once you know how much your jewelry is worth, review your coverage to see if your favorite sparkly pieces are covered. Generally, a homeowners policy will cover your jewelry, but only to a certain amount for certain causes of loss. For high value items, $1000 or more, you should add a rider to your policy that will cover your valuables. A "scheduled" floater, rider, endorsement, or a separate personal articles policy, is a great option to protect your valuables. Additional coverage has higher coverage limits than standard homeowners or renters policies and often doesn't have a deductible.
Claim Options
When jewelry is covered with an additional policy, most insurance companies offer two options:
Traditional repair/replacement cost
Agreed value loss
The traditional repair/replacement cost option is the default option on a scheduled personal property endorsement to your homeowners policy. This gives your insurance company the option to replace an item at an amount lower than the value listed on the policy. This happens if the lower amount would return the item to its original condition or replace the item with one of like kind or quality.
For an additional premium, the agreed value option will simply pay the amount an item is listed on the policy. This is often a more satisfying claims experience because the settlement tends to match the expectations of even the most meticulous clients.
With all the options available to protect your jewelry, the best thing you can do is talk to your advisor to see which coverage will be most "valuable" to you!