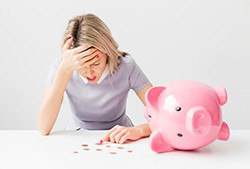 How am I going to pay off my student loans? Can I afford my increased health insurance premiums? How can I save to send my children to college? Will I be able to save enough for retirement?
Are these questions on the minds of your employees? Most likely yes. Financial worries are a growing concern for many people.
But have you considered addressing financial stress as part of your workplace wellness efforts?
What exactly is financial wellbeing? The Consumer Financial Protection Bureau defines financial wellbeing as having financial security and financial freedom of choice in the present and in the future.
Why is it important to employers? The American Psychological Association releases a report on stressors in America each year, and financial stress consistently holds one of the top spots. Whether or not you think financial stress is a problem in your organization, statistically it is. Your employees are worried about their finances while they try to complete their usual on-the-job duties.
How can you help your employees improve their financial wellbeing? Here are a few solutions to consider:
Have a local financial expert (CPA, CFP firm, investment broker) come onsite for a lunch and learn.
Check with your current wellness vendor to see if they offer financial wellbeing resources (many of them are starting to). Some EAP vendors also now offer these types of services.
Seek out a vendor specializing in financial wellbeing.
What type of financial wellbeing vendors are out there? There are a few different types: those who offer financial education by itself, and those who offer short term loans paired with their financial education. Some of the latter vendors offer coaching as well.
A couple examples of vendors who offer financial education are Pete's Money School and FDIC's Money Smart program. These are usually fee-based and offered online. The programs generally include quizzes, videos, and walkthroughs on pieces such as making a budget, paying off debt, and saving for retirement or your children's education.
Then there are the vendors who make their money through short term, usually low- or no-interest loans. A few examples are FinFit, Kashable, and SimpleFi. On the surface, this is a great idea. Your employees can pay back their high deductible, pay for unexpected expenses, and hopefully decrease 401(k) borrowing. The downside is the possibility of sending mixed messages regarding teaching people how to get out of debt while also promoting getting into debt through a loan.
Here are some things to think about when deciding what type of initiatives to offer to your employees:
Program customization – Most vendors have some level of customization today, but make sure you are purchasing only the services your employees will use.
Costs – It may make sense to partner with a local bank or credit union, but if they are free, there may be a reason for that. Figure out how much money you have to budget for this initiative that will maximize your dollars spent relative to employee impact.
Interest – Whether you're looking at a financial wellbeing program or any other initiatives you offer to your employees, make sure it is something that they want. It could decrease morale if you are emphasizing a program they don't want, or at the least it could be a waste of your money. Try surveying your employees to see what they are interested in.
There is certainly a place and an employee population that these services may fit, but your employee demographics and interests will be your guide. Take a look at your 401(k) participation, health plan claims, and ask your employees if this is something they would be interested in. You might be surprised by how many would appreciate the help!