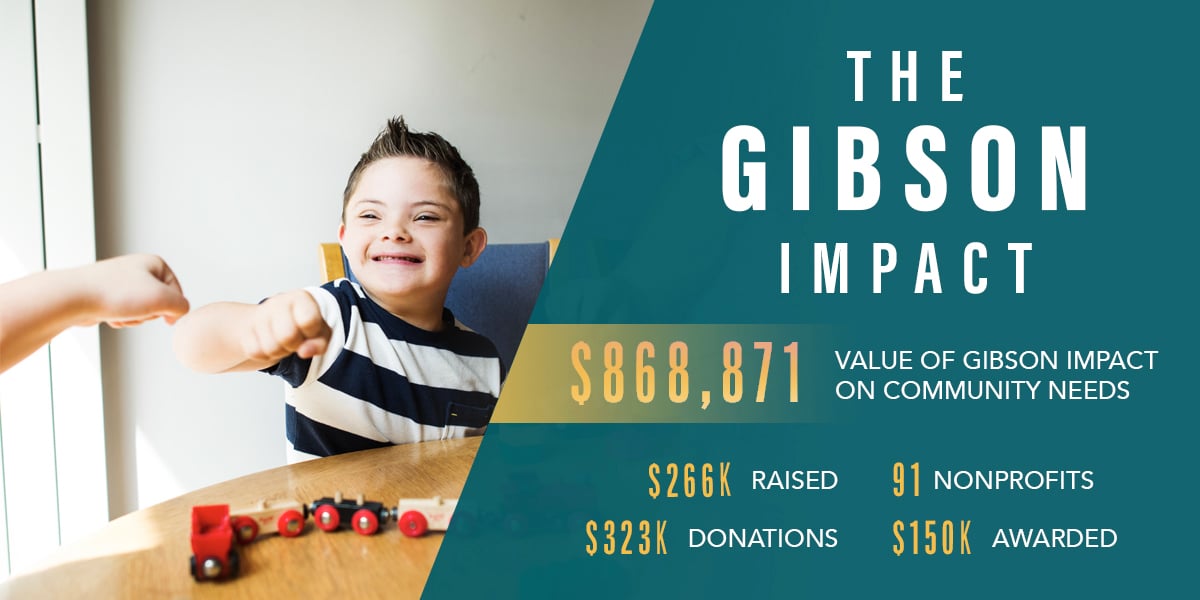 At Gibson, giving back to the community isn't just a transaction. It's part of the fabric that makes up the core of our company. Gibson is always looking for ways to empower all team members to participate in a giving experience, whether that is through direct giving, input on corporate giving, group projects, through volunteer service, or board leadership.
"Giving back builds relationships within our teams while also strengthening relationships with clients and our company ties to the community," says Whitney Trent, Wellbeing and Engagement Strategist at Gibson. "It gives opportunities for young professionals to gain practical experience to turn into leadership skills at work."
Here are five ways in which we approach community investment and involvement opportunities:
Direct contributions. We know community partners rely on the generosity of successful leaders in the business sector to give back. Gibson gives cash gifts directly to nonprofits through grants ranging from $250-$12k on an annual basis.
Volunteering. Volunteering during the workday or outside of work hours with our colleagues is supported and encouraged. Work hours spent doing community service are logged the same as regular work hours.
Team service. From delivering meals and gifts to homebound seniors to hosting a food or clothing drive for those in need, Gibson employee-owners are always looking for ways to incorporate meaningful experiences into their weekly agenda.
Nonprofit leadership. Our Gibson team volunteers go above and beyond by providing professional expertise toward nonprofit operations as a member of a Board of Directors. Many team members are actively looking for board leadership training and opportunities.
Nonprofit risk solutions. We are proud to provide risk management services to over 100 nonprofit organizations in Indiana and Michigan. We are tuned into the unique challenges and risks facing nonprofit operations because we're in the field every day doing the work right alongside them.
How does your organization impact the community, and do you have a community investment and involvement strategy in place? We'd love to hear how you're affecting positive change in the community, locally and at large!