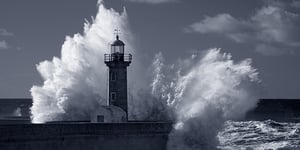 "The first and final thing you have to do in this world is to last in it, and not be smashed by it." – Ernest Hemingway
In Simon Sinek's book The Infinite Game, the "winners" are those still in the game. Having the will and resources to continue playing the game, long after the other players drop out, will allow our organizations to stand the test of time.
A key part of Sinek's philosophy revolves around Advancing a Just Cause. It's what gives our work meaning. It is the world we hope to build and what inspires us to keep playing the infinite game.
Just Causes - and the Infinite Mindsets behind them - require resiliency. They must be durable enough to endure through political, market, technological, and cultural change over the years.
Likewise, so must the individuals that are doing the advancing. But how do we acquire resilience? Is it something we're born with or can it be learned?
George Bonanno, clinical psychologist at Columbia University's Teachers College, says we only learn our resilience when faced with adversity: "It's only when you're faced with obstacles, stress, and other environmental threats that resilience, or the lack of it, emerges: Do you succumb or do you surmount?"
He goes on to explain that our resilience often comes down to… our own perceptions: "Do you conceptualize an event as traumatic, or as an opportunity to learn and grow? Events are not traumatic until we experience them as traumatic."
Take a few seconds to absorb that. Our resilience has much to do with how we frame our adversity.
And what does this have to do with Sinek's infinite game? Everything. If you're playing the long game, adversity, failure, or "bad luck" can be taken in stride. There is nothing you can't outlast. The setbacks are only temporary.
The Bonanno article continues: "Frame adversity as a challenge, and you become more flexible and able to deal with it, move on, learn from it, and grow. Focus on it, frame it as a threat, and a potentially traumatic event becomes an enduring problem; you become more inflexible, and more likely to be negatively affected.
Sinek recalls the Asian proverb that made its way into the script of Charlie Wilson's War. Gus, the cagey CIA officer, is conveying the danger of playing the short game in Afghanistan to Congressman Wilson:
A boy is given a horse on his 14th birthday. Everyone in the village says, "Oh how wonderful."

But a Zen master who lives in the village says, "We'll see."

The boy falls off the horse and breaks his foot. Everyone in the village says, "Oh how awful."

The Zen master says, "We'll see."

The village is thrown into war and all the young men have to go to war. But, because of the broken foot, the boy stays behind. Everyone says, "Oh, how wonderful."

The Zen master says, "We'll see."
Author James Clear comes at the long game from a similar vantage point, writing, "Mentally tough leaders are more consistent than their peers. They have a clear goal that they work towards each day. They don't let short–term profits, negative feedback, or hectic schedules prevent them from continuing the march towards their vision."
The infinite game is a never-ending journey. It's about always being better, not the best. In other words, stick to the schedule and forget about the short-term results.


What's The Risk?
As the popular saying attributed to Winston Churchill goes: Success is never final, and failure is never fatal. It's the courage to continue that counts.
In the infinite game, victory is defined by the fact you're still in the arena, advancing. You and your team trust each other. You've studied and learned from those around you, many of whom by now have tapped out. Yet you remain flexible and prepared for the existential opportunities and threats that lie ahead.
Writes Shane Parrish, "Trying and struggling looks like incompetence right up until the moment it looks like success."
By consistently playing your infinite game, you cannot lose. Sounds wonderful! We'll see.