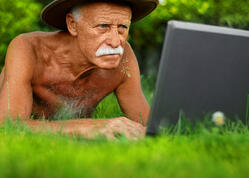 Another installment of the Olympic Games has come and gone. The journey of an Olympic athlete represents perhaps the ultimate metaphor for grit: passion and commitment to a long-term goal.
I was talking with Brad Serf recently, a partner in our Plymouth, Indiana office. Plymouth is home to 2012 summer Olympian Morgan Uceny. In 2011 Morgan rose to the #1 ranking internationally in the 1500 meter run. Brad told the story of her suffering the misfortune of a fall during the 1500 meter 2011 World Championships in Daegu, South Korea. Her single-minded determination over the next year allowed her to again rise to the top of her sport, winning the 1500-meter championship in 2012 at the U.S. Olympic trials.
"Now she had a shot at redemption with a ticket to London and an opportunity to be the first American woman to medal in the 1500!" exclaimed Brad. She advanced to the Olympic finals and was well positioned going into the final lap of the race when the unthinkable happened again. Her left leg was clipped by another runner resulting in a hard fall and eliminating her chance at a medal.
"Four years is a long time to wait for the next Olympics," said Brad. Yet soon after her second fall she declared she would continue her dream of an Olympic medal and resume training in hopes of earning a spot on the 2016 U.S. Olympic team in Rio.
It's easy to imagine the grit and stamina necessary to achieve Olympic glory and the commensurate reward that comes with it. What about in the professional world? Individual and organizational grit is equally vital to a business achieving its full potential. At some point in time the odds will be stacked against you. Will you continue to forge ahead or will you stop?
When we evaluate candidates for sales roles it can be difficult to determine their aptitude for grit. Yet we know high achieving individuals have it. It's essential over the long-haul for success.
Are people born with grit or can they learn to become "grittier"? That question is hard to answer. "I believe grit can be cultivated and developed," said Brad. "But only through experience can you know your true grittiness."
Researchers say that a critical incident isn't required to develop grit, but Brad has a good point. Perhaps you don't know what you're capable of without the opportunity to overcome adversity. It makes me realize how important it is in the interview process to probe into someone's story. It's okay that they failed. More important is how they got back up and kept going. The interesting thing is that many with "true grit" don't even consider their situation or struggles to be all that extraordinary. It's just part of life and they've made a decision to persevere in spite of what has happened to them.
A quick look on Wikipedia says: Individuals high in grit are able to maintain their determination and motivation over long periods despite experiences with failure and adversity. Their passion and commitment towards the long-term objective is the overriding factor that provides the stamina required to "stay the course" amid challenges and set-backs. Essentially, the grittier person is focused on winning the marathon, not the sprint.
What's The Risk?
Like Mattie Ross says as she searches for someone to help avenge her father's death in the movie True Grit, "They say he has grit. I wanted a man with grit."
For an organization like Gibson that's in it for the long haul grit is a key ingredient. The risk as we grow is to maintain a culture based on a long-term commitment to clients, employee ownership, and our communities. Therefore, having team members with a little grit is critical to our success.
How about you? Got grit?