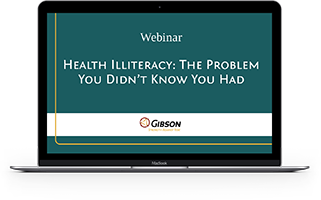 Navigating the health care system can be a tricky and windy road. Not knowing and understanding basic health information can cost people money and affect their wellbeing.
With the rise in prevalence of consumer driven health plans, numerous tools and resources have become available to help employees make more informed decisions when purchasing health care. Concierge services for finding providers and shopping for services, as well as other price transparency tools, have become common place. While these tools can prove useful, an equally effective, yet less publicized strategy for increasing health care consumerism is to improve health literacy.
During the Health Illiteracy: The Problem You Didn't Know You Had webinar, your own health care smarts will be tested in a fun, engaging way. The connection between health literacy and health care consumerism will be addressed, allowing you to evaluate your efforts to help employees make better health care decisions.
Watch our on-demand webinar to hear our Director of Health Risk Management, Nicole Fallowfield, discuss the importance of employee health literacy.
In this session, you will learn:
The definition of health literacy and how to recognize opportunities to improve it;
The connection between health literacy, health care consumerism, and health outcomes; and
How to identify tools and resources to improve literacy and consumerism in the workplace.