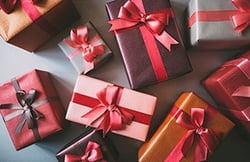 The holiday shopping season is about to begin! Whether you're someone who gets up bright and early to grab Black Friday deals or online shopping and Cyber Monday are more your style – the next several weeks bring lots of great deals and discounts…but also an increased risk of identity theft and credit card fraud.
Gallup's Crime survey reports that 27% of Americans say they, or someone in their household, has had their credit card information stolen. And the 2018 Identity Fraud Study by Javelin Strategy & Research reports 16.7 million victims of identity theft. And in those instances, a total of $16.8 billion was stolen. Thieves have stolen $112 billion from consumers over the last six years.


How Do The New Chip Credit Cards Impact Fraud?
Microchip equipped credit cards use EMV technology. This does make it much more difficult for thieves to produce counterfeit cards. So the use of chip cards should reduce the amount of fraud occurring at brick and mortar stores. But as EMV increases, experts expect online fraud to rise. Countries who implemented EMV technology years ago saw the same trend.
Another trend in response to EMV technology is new account fraud. Insurance Information Institute describes this as "when a thief opens a credit card or other financial account using a victim's name and other stolen personal information."


How Can You Help Prevent Theft & Fraud?
At a minimum, check your credit card and bank account statements weekly. This will allow you to keep a close eye on your transactions and help you spot any suspicious activity immediately.
To prevent new account fraud, if you are not planning to open a new credit card in the near future, you can consider putting a freeze on your credit file so nothing can be opened in your name.
New scams and trends in fraud are popping up every day. Keep an eye on your trusted news source to be aware of what new risks you may be facing and ways to prevent becoming a victim. The Federal Trade Commission (FTC) offers scam alerts you can view on their website or subscribe to.
The FTC provides great resources for how to keep your personal information secure – both on and offline. Consider watching this video for 5 ways to help protect your identity.


Victims: What Should You Do?
If you believe your personal information has been stolen or is being used by someone else, you need to act quickly!
The Indiana Office of the Attorney General's website provides a comprehensive Identity Theft Guide. They recommend the following steps:
Place fraud alerts on your credit reports.
Report the fraud to your local police department as soon as possible.
File a complaint with the Attorney General's Identity Theft Unit. (Though this relates specifically to Indiana, your state may have a similar department or unit. Visit your state's website for more information.)
File a complaint with the Federal Trade Commission.
Review your consumer rights.
Conduct follow up steps.
Utilize sample letters.
And through this entire process, keep a detailed record of all of your correspondence and conversations.
Your personal risk management strategy should include methods for protecting your personal information. And especially during the holiday shopping season, take extra care when making credit card purchases. Don't let identity theft and credit card fraud put a damper on your holidays!