Today we're sharing insight from guest blogger Barbara Khozam, internationally recognized customer service speaker and trainer. We hope you enjoy Barbara's wisdom and perspective.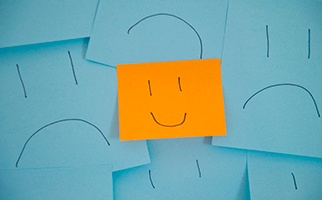 Negativity has always been easier to pass along than positivity. This is largely due to our antiquated human nature of day-to-day survival against the world around us. Our existence depended, historically, on knowing where dangers could be found. So passing on this negative knowledge was essential to our lives. However, we no longer live in such an era. But, as human citizens of a modern world, why not make the conscious decision to make positivity contagious?
Real World Story: Many of us get caught up in the drama of our day-to-day lives. And we then thrive on the resulting negativity. Whether or not we know it, we make the negative aspects of our lives contagious, passing it on to others like wild fire. But why not set a positive example for the customers whom we deal with every day and make that contagious? Why not focus on the positive? And why not take that positivity and pass it on to the people whom we encounter in customer services experiences and in life in general.


Strategies That Turn It Around:
Focus on the positive. In our daily lives, we will always have positive things that happen to us—anything from someone holding a door open for us, getting a cup of coffee from a friend, to someone simply saying "thank you" and "you're welcome." We then pass on these acts of kindness to others. In customer service, even when we deal with irate customers, we should try to focus on anything positive, or we may simply have to create some positivity to turn the situation around.


Create your own good deeds. Life isn't always a bed of roses. Sometimes, we simply don't have a positive experience to pass on to others. We then have to create our own good deeds. In customer service, this may mean being extra polite and kind to the people we talk to on the phone. In customer-facing positions, we can make an effort to greet people warmly, smile, and be present and in the moment for whatever they need. The idea is to stay positive with our customers.


Pass it on. In order to make positive experiences contagious, we must pass them on to others. We can't simply keep them to ourselves, right? Whether we are the recipients of positivity or we see others passing it on, sharing these positive actions can become contagious. Imagine if we all passed on positivity at least once each day? What a wonderful world it would be.


What's The Risk?
Negativity is contagious. And we don't have to try very hard to make that happen. On the other hand, positivity takes work. We sometimes have to dig deep inside of ourselves to turn around a bad customer experience into an opportunity to delivery exceptional service. And we can do that through positivity. And, hopefully, we can start a chain reaction to make positivity contagious each and every day.
What do YOU do in your customer service position to pass on positivity?
This content was written and shared by guest blogger, Barbara Khozam.
Barbara Khozam is known around the world for her impactful, high-energy delivery, outrageous wit, and ability to connect with her audience.
Barbara has spoken more than 1,100 times to more than 35,000 people in 9 countries about customer service, leadership, motivation, and communication. And from the millions of people who have been through Toastmasters programs, she is one of just 67 (the 14th woman) who has been awarded with the Elite Accredited Speaker Designation for Outstanding Platform Professional Speaking. She is also the recipient of 27 awards for Sales Achievement & Outstanding Trainer Ratings.
Her wit, energy, and jaw-dropping insight, reveal practical principles necessary for success in today's cynical marketplace. Barbara will show your audience how to create win-win scenarios in all of their professional relationships and how to create rapport with clients, propelling your business into a category of one.
Barbara's highly acclaimed book, How Organizations Deliver BAD Customer Service (and Strategies that Turn it Around) has become a staple on the bookshelves of people who excel at creating great customer relationships. She also co-authored Executive Etiquette Power and was featured in The Power of the Platform, along with Jack Canfield, Brian Tracy, and Les Brown. These books have sold in excess of 25,000 copies worldwide.
Barbara is a former professional beach volleyball player and can still be found spiking balls on a court when she is not lobbing insightful and practical advice to groups like Kaiser, Xerox, Symantec, Verizon, FEMA, the FBI, and hundreds of other multinational corporations, and government agencies.
Connect with Barbara via her website, Twitter, LinkedIn, and Facebook.