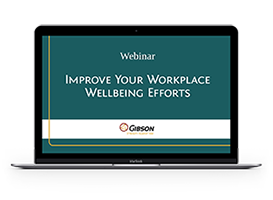 There is no doubt that the wellbeing of your employees impacts the wellbeing of your organization. According to research by Gallup, employees whose wellbeing is thriving are less likely to look for a new employer or be involved in a workplace accident, and they have fewer sick days. But implementing an effective wellbeing strategy isn't easy. The effectiveness of any wellness program or initiative depends on the culture of an organization and then extends to the workplace climate.
Have your wellness efforts been falling short? Are you struggling to engage your employees? Unsure what role incentives should or should not play?
Watch this on-demand webinar to hear our Director of Health Risk Management, Nicole Fallowfield, discuss these questions and more.
Ready to take action and make your workplace wellness program more effective? Tune into the webinar to learn:
What research says about how individuals respond to rewards and penalties
Different motivation types
The truth about incentives
What real employee engagement looks like and strategies for achieving it in your organization
And more on how to improve your workplace wellbeing efforts