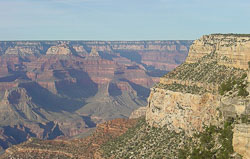 "I can't do this. I really can't. I'm done," I somewhat coherently muttered to myself. The temperatures were soaring. I had run out of water and energy bars a few hours before. I was bent over with my hands clutching my dusty knees, swaying back and forth as I couldn't seem to find balance. I noticed my shirt was almost dry and I had stopped sweating. At that moment, with less than a mile to go, I would have paid any cost and dealt with the ridicule sure to follow if I could have quit. But I hadn't seen any pack animals for quite some time. And there was no way a helicopter would come for me this close to the top of the South Rim.
I would have to continue. But I couldn't. At that moment, a friend of mine named Jim Holder who had joined us on the hike, was coming up the trail and offered me his water and a Cliff Bar. "Just rest for a few minutes," he said. "It's not like we can leave without you." Maybe he was right I thought. So I took some of his water and ate a little; although nothing tasted very good at the moment.
After about 5 minutes, I could tell all the muscles in my legs were cramping and the blister on my foot I had been ignoring for the past seven miles was raging in pain. I knew I had to get up or I wouldn't be able to do this. I gingerly rose to my feet. Jim took my pack and offered to carry it the rest of the way. I sheepishly accepted. All of my pride was gone.
It was May 14, 2005, and I was yards away from completing, for the second time in my life in a single day, a rim-to-rim hike of the Grand Canyon. And I had all but given up.
I decided I would just start walking again. But my body wasn't responding by instinct. I had to literally think about getting one foot in front of the next one. Slowly but surely I was making a little progress. And then I began to pass "civilians" coming down the South Rim. They were smiling, laughing, and taking in all the natural beauty. Most importantly, they had street clothes on. I knew they had come from the world at the top. They were fresh out of their cars. Unlike me, they were not on a Death March. I felt a new jolt of energy rush through my body. I was close to the top, almost there. Just one more foot in front of the next…
The Hike

A group of guys from the company I was with in Phoenix had been making the trek on a regular basis. Starting on the North Rim of the Canyon as the sun came up, it was an approximately 14 mile descent to the Colorado River. The hike up the South Rim was about 8 miles.
Thom Lewis was our office head and planner of the trip. When I emailed him recently about why he regularly made the hike, he replied back, "The Grand Canyon is not only a scenic wonder, but offers a hiking experience unlike few in the world. Making your way through 7 climate zones and seeing millions of years of natural history is very humbling, providing great moments of personal reflection and uninterrupted solitude."
Kevin Cummings, another friend from Phoenix on the trip that day chimed in, "Sharing a common bond from that trip is a fond memory that I think of yet today. When you're dirty, dusty, sweaty, exhausted, and there's no help in sight, it doesn't matter how much money you have in the bank, what car you drive or how big of a house you own. You're in the depths of the Grand Canyon and you only have each other to help motivate one another to keep putting one foot in front of the other."
Thom continued, "The hike down doesn't prepare one for the mile vertical climb out. Hikers die every year attempting to go just down or just out. Going rim-to-rim takes considerable training and fortitude. Temperatures can range from the 30's at the top to 110+ along the trail. You have to not only carry enough water, but food and other nutrients to replace those sweating out of your body."
I knew how badly I wanted to quit that day but wondered if Kevin and Thom had ever felt that way. "Absolutely!" exclaimed Kevin. "Going rim-to-rim is not for the faint of heart. It's not a hike. It's more like a marathon. Going down is easy. It's a nice walk. Coming up the switchbacks tested my fortitude more than anything I had ever done."
Thom agreed, "Every time I've hiked the Canyon, I've wanted to quit at some (or multiple) points along the way. But, seeing the top, even from a distance, and realizing you've got a chance at survival, excites the senses and becomes a tremendous motivator."
What's The Risk?
On the surface, the risk would seem to be overcoming extreme physical challenges – a marathon length hike, 7 climate zones with a one mile vertical climb! But as my friends Thom and Kevin imply, it's really much deeper than that. It's about training your mind to push forward, even when all hope is lost. It's about having the will to soldier on… just one step at a time.
We all have – or will – face our very own Grand Canyon. You will find yourself in a place where you seemingly cannot continue. But the thing is, we are amazing creatures. And against all odds we can make it out.
My two Canyon hikes with Thom and Kevin taught me this:
You must practice. Push your limits. Simulate the tough times so you're ready for them when they come.
Plan ahead. Know what the "essentials" are and never get caught without them. Your life may depend on it.
Go with a friend. Just when you think you have #1 and #2 nailed, you'll realize you don't. Pick someone who will be there for you when you need them most.
Have patience. The journey is long. Just keep putting one foot in front of the next.