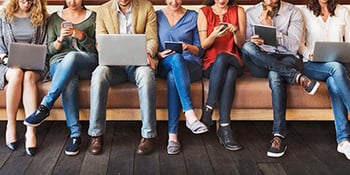 Social media is an integral part of our everyday lives. It brings significant benefits for businesses and business owners. After all, 95% of adults are most likely to follow a brand via social networking, according to Marketing Sherpa.
Along with the benefits from building an engaging social presence, come associated risks – risks of both being on social media and being absent from it altogether. It's immensely important to know what these risks are, as well as the proper strategies to manage them.
What your company and employee brands say about you matters. It's essential to know your reputation risks, identify how you can avoid them, and develop a strategic social media usage policy in order to protect your brand.
To help you and your business protect your brand, we've compiled a guide for identifying and addressing these social media risks.
In this eBook we discuss how to identify social media risks, the role of employee brands, essential social media tips, and how to deal with negative feedback.
Download our eBook now and proactively manage your organization's reputation on social media.