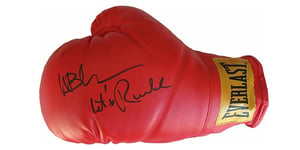 Ladies and Gentlemen, let's get ready to rummmmmmmmbbbbbbleeee!
Have you read Dare To Lead by Brené Brown? She has a concept she calls "rumbling":
"It cues me to show up with an open heart and mind so we can serve the work and each other, not our egos."
For Brown, a rumble means a completely honest conversation, devoid of ego, and done from a place of caring. And it's listening, with an open mind, truly searching for the truth.
If you've read her books or watched her videos on YouTube you are probably grinning a bit right now recalling one of her rumble stories! I especially like the ones that involve her husband.
I want us – you and I – to rumble about our readiness. "Rumble. About our readiness?" you say.
Yes, and for clarity's sake, here's a pretty typical definition.
Readiness
1. The state of being fully prepared for something.
2. Willingness to do something.
It's not enough to be prepared, although that's a great starting point. It also requires the willingness, the guts, the courage…to act.
The coronavirus pandemic has shown us just how ill prepared and unwilling we were to confront something of this magnitude. Everything has changed. In short, we were unready.
Apple recognizes the need to update their operating systems (OS) on a regular basis. And we accept it, constantly downloading the latest version of iOS to all our devices.
So why wouldn't the same hold true for organizations and individuals alike? Why would you or I think that the OS 1.0 version of our personal, professional, or even political systems were good enough to combat something like Pandemic 4.0?
And that's just the beginning. Now more than ever, our ability to handle the change coming our way will become the key determinant of whether we thrive or merely survive. We must improve our readiness.
We're in need of an OS with the following upgrades:
Plays an infinite game
Provides safety for WTTMSW (Tom Peters speak for Whoever Tries The Most Stuff Wins)
Values relationships over rules
Runs on transparency and accessibility
Eliminates status meetings and other bureaucratic theater
Practices dynamic and inclusive teaming
Makes strategic priorities and tradeoffs explicit
Gives everyone an opportunity to offer their expertise
But unlike Apple, our organizations and our brains/bodies do not come with pre-packaged automatic downloads, perfectly recalibrated to fight off the latest virus or run a new productivity app. No, for us, it requires our willingness and a lot of work.
What does fully prepared look like?
It is being curious and introspective. You are always learning and growing your expertise to stay relevant. You are committed to being better today than yesterday. To put it in OS terms, are you downloading all the required upgrades?
How do I become one of the willing?
Start by looking in the mirror. Deal in reality; only the facts. Put your ego aside and accept what is truly there. What do you see? Are you willing to put the work in to get where you want to be? Choose accountability. Become proficient at change. Own your future.

What's The Risk?
The risk is in skipping the upgrades to your personal operating system, leaving yourself woefully exposed. Instead, you and I need to commit to the work of futureproofing ourselves and our organizations.
Learning, questioning, innovating, and growing have never been more important. Being adaptable, inclusive, transparent, and abundant are no longer choices (if they ever were). We must become ready.
As Cy Wakeman says, "Change isn't hard; it's our unreadiness. Change is only hard for the unready."
We don't know what the future holds or what changes are in store, only that things will forever be different.
What's done is done. Wishing we had the upgrade installed before the pandemic struck won't change anything that's already occurred. But you and I can do the work now to be among the ready for what comes next.