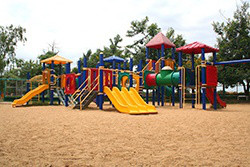 The true object of all human life is play. Earth is a task garden; heaven is a playground. - G.K. Chesterton
Ask most any kid and they'll say recess is their favorite thing about school. Unconstrained by desks and chairs and any agenda, they can swing, slide, climb, run, and just be kids!
Perhaps surprisingly, many adults would sort of agree with those kids. In 2013, the American Academy of Pediatrics released a policy statement noting the cognitive and academic benefits of recess. As one researcher put it, "[I]t really affects social, emotional, and cognitive development in a much deeper way than we'd expected. It helps children practice conflict resolution if we allow them unstructured play, and it lets them come back to class more ready to learn and less fidgety."
At the heart of recess—where most of the unstructured play happens—is the playground. And these days, with their two-story high slides, wobbly bridges, and other colorful twisty things that I can't even name, they are more like the heaven G.K. Chesterton imagines than ever.
But there is a dark side to playgrounds. Over 200,000 injuries occur on playgrounds each year. Most of those involved falls or equipment failure with climbers and swings topping the list of equipment involved in injuries with slides right behind. And an injured child is less likely to get the full benefit of recess and unstructured play.
To give your students the best playground experience, consider the following tips to help prevent injuries:


1. Design Age-Appropriate Playgrounds
Playgrounds should be built with the age of students in mind. The National Program for Playground Safety has developed the following basic guidelines for playgrounds for children of varying ages:
6–23 months: Offer spaces to move and explore, with adequate areas to crawl, stand, and walk.
2–5 years: Provide spaces with small steps and crawl spaces, ramps with pieces for grasping, tables for sand and water toys, tricycle paths, and shorter slides.
5–12 years: Offer rope or chain climbers at angles, horizontal bars, tire swings, slides, or sliding poles. Open spaces to run or play ball are also encouraged.
In addition, the playground should be well marked with signs indicating the different areas and the ages they are appropriate for.


2. Ensure Playgrounds Are Well-Maintained
All equipment should be properly maintained throughout the year to ensure student safety. Make sure your equipment meets the current safety standards listed in Consumer Product Safety Commission's (CPSC) Public Playground Safety Handbook. Equipment should be checked daily for obvious issues and more formally and fully inspected monthly to help ensure the playgrounds remain free from dangerous surfaces and broken equipment. The monthly inspections should be documented.
Some of the issues these inspections should look for include splinters on wooden playgrounds; rust, cracking, or flaking on painted objects; cracks on plastic equipment; loose or weak cables or ropes; hooks or other things sticking out near the open areas at the tops of slides that could catch on clothing and cause strangulation; and proper drainage surrounding the playgrounds.


3. Provide Proper Falling Surface
Given the high frequency of playground falls, schools should provide a proper playground surface. Your daily equipment inspections should include looking at the ground cover depth to ensure it is still adequate. The CPSC recommends "at least 12 inches of wood chips, mulch, sand, or pea gravel, or are mats made of safety-tested rubber or rubber-like materials." The playground surface should extend at least 6 feet from the equipment in all directions. For areas around swings, the surface should extend—both in front and behind the swings—to at least twice the height of the suspending bar.


4. Provide Adequate Supervision
Playgrounds should be built so that properly positioned monitors can collectively see all areas of the playground. Monitors should also be trained to anticipate hazardous situations. Consider creating a supervision kit that includes safety information and procedures, a first-aid kit, emergency contact information, and any other essential items to ensure student safety.
Understanding and addressing the risks associated with playgrounds can help your school and its students to get the full benefit of recess by ensuring safe play. So consider risk management tools like design, maintenance, and supervision before the recess bell rings. Your students will thank you without even knowing it every time they tell someone that recess is their favorite part school.