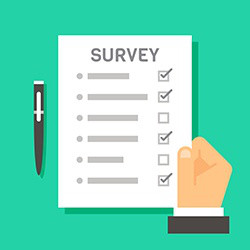 In several of our blogs we've suggested surveying your employees as a starting point for future wellness initiatives. Your best chance at employee engagement in your workplace wellbeing programs begins with asking your employees what they want!
Whether it has to do with workplace safety, financial wellbeing, internal work processes, or other factors that influence wellbeing, it's always a good idea to see what your employees think about it first.
Where to start? Demographics questions are the easiest. These can be put at the beginning or the end. Age, gender, and marital status can all help organize your results to see patterns in the data. You may want to make these optional, as some employees may not be comfortable answering them.
Next, think about what answers you are seeking from the survey and how you plan to address the results. These could revolve around organizational health, employee satisfaction, benefits offerings, and much more. When looking specifically at workplace wellness, you should consider asking not only about what topics interest them, but also the methods they prefer to interact and communicate – email, on paper, webinars, in-person events, etc.
Lastly, you'll need to decide how you will distribute the survey. Will it be on paper and employees will be asked to turn it in to HR? Will it be online using a free service such as SurveyMonkey? Or will you use a company like Qualtrics to receive richer reporting? Think about the population being surveyed and decide what will work best for your organization.
To help you get started, we've created a sample workplace wellbeing survey.
This sample will give you the framework to create your own questionnaire and begin gathering helpful data about your employees' interests, needs, and preferences. Be mindful that when you ask employees to take the time to share their perspectives, they expect you to act on it. Once you have aggregated the results from your survey, it's always best to share a summary with organization as well as the plan of action.
Ready to make your workplace wellness initiatives more effective? Download our Workplace Wellbeing: Sample Employee Survey.