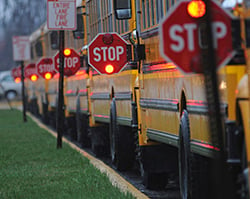 The greatest risk students face is getting to and from school every day.
According to The "Relative Risks of Death in U.S. Schools" report, school transportation-related incidents are the leading cause of fatalities. This includes riding school transportation, being struck by a school bus or other school vehicle, or being killed by a non-school vehicle on school property.
And don't forget about students who get to school in their own vehicles or ride with others. This is considered the most dangerous form of transportation to or from school. In fact, students are 50 times more likely to arrive to school alive if they take the bus than if they drive themselves or ride with friends, according to the American School Bus Council.
Research shows school buses that meet federal regulations, are considered the safest way to transport children. But there is always room for improvement. New risks are constantly emerging. Take for example the recent focus on training bus drivers how to handle an active shooter scenario. This hadn't been considered a major risk for school buses in the past, but with the epidemic of active shooter situations in our country, the need for proper training in this area has arisen.
School districts cannot control other drivers, but they can look for ways to make their transportation as safe as possible. This includes educating students and parents on bus and driving safety.
Keeping School Transportation Safe
There are state and federal regulations outlining safety protocol for school transportation. But shouldn't the goal be more than just to comply with regulations? The ultimate goal should be to keep students safe. And if you only focus on meeting regulations you may be missing out on preparing your drivers and students for the emerging risks related to school transportation.
The use of safety mechanisms, proper vehicle maintenance and inspection, extensive driver training, and education of students and parents can help keep your students safe while traveling to and from school.
School Bus Driver Training
Don't simply train to comply with regulations, train drivers to prevent unsafe behaviors.
Bullying is a growing concern at schools, but the incidents are also happening outside the classroom. Educate your bus drivers on how to identify signs of bullying, how to intervene, and what can be done to prevent future incidents. There are numerous resources about bullying, including

StopBullying.gov

.
Extra attention and care is needed for students with disabilities. Bus drivers should not only be trained on how to handle specialized equipment, but also to gain an understanding of the communication barriers and behaviors of some individuals with special needs may exhibit.
Establish training and procedures for various weather conditions to make sure drivers know what to do when bad weather strikes.
Keep your training updated. There are always new risks emerging, such as active shooter situations. And your training should be adapted to address these new risks.
Teaching Bus Safety To Students And Parents
One of the most dangerous aspects of riding the school bus is the getting on and off the bus, and crossing the street. Even though drivers are required to stop, do not assume they will. We cannot control the actions of the independent driver, but we can teach students and inform parents on how they can assist.
The National Safety Council has outlined important school bus safety guidelines. This is just one of many resources available to help teach bus safety.
Educating Students On Safe Driving
For high schools, it is important to help teach teen drivers. Traveling with a teen driver is the most dangerous form of transportation to and from school. To keep your students safe on the road, as well as to make them less of a danger to other drivers including buses, take time to educate them on how to be a safe driver.
As an adult, your driving skills have developed over time. You weren't great at handling winter weather when you first started driving – it took time and practice. Parents and educators can help teens start to learn about handling changes in driving conditions such as bad weather, nighttime driving, and heavy traffic situations. Check out our Safe Teen Driver Agreement for ideas.
Distracted driving is also a significant danger to teens. But it is more than just cell phone use putting teens at risk – it is also listening to loud music, trying to multitask like eating or putting on makeup, and driving their peers. In fact, AAA has found that a 16 or 17 year-old driver's risk of being killed in a car crash increases by 44% when carrying 1 passenger under the age of 21. And the risk quadruples when there are 3 or more passengers younger than 21. Take time to teach your students about how to reduce the distracted driving risks.
For additional resources regarding school transportation safety, please visit these links: