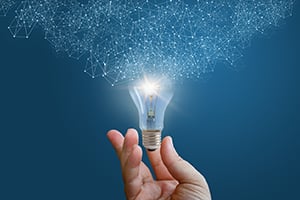 I can distinctly recall a discussion from my first real job. It was with a Regional Vice President, named Jim, who was about 4 levels above my direct supervisor. This was at a Fortune 100 organization, so being fresh out of college and having a serious discussion with a leadership team member was kind of a big deal. I had recently voiced my opinion on our current processes and procedures for time service standards at a large national conference. I offered several new ideas to evolve our standards. Jim called me a few weeks later to personally thank me for speaking up. And although most of my ideas were not feasible at the time or just bad, one of my ideas he loved and was already beginning to implement.
I wanted to discuss further my "bad ideas" that Jim said were not feasible, but he was too busy and basically ended the phone call with "Keep bringing me ideas – for every 20 bad ideas, hopefully 1 will be good." I remember getting off the phone and being discouraged, thinking "Wow, what is that supposed to mean – 1 out of 20 is a good batting average?" Little did I know, this would be my first serious discussion on being an innovative leader.
After 7 years of corporate employment, I decided to start a side hustle with my wife Sarah. Looking back, I needed a creative outlet for my entrepreneurial spirit. We decided our small town of Pendleton needed a trendy restaurant that offered a variety of craft beer and local food, after all, we were sick of driving to Indianapolis to experience anything cool and innovative. Our business plan entailed some draft beer, a large selection of canned/bottled craft beer, and a small, trendy food menu. We also decided to be a non-smoking establishment, keep in mind, this was in 2009 which was 3 years before Indiana passed the Smoke Free Air Law.
Many local board members, public citizens, and even family members told us numerous times we would never make it – Pendleton was not ready for something like this. We also didn't have any experience running a business or even working in the hospitality industry. But we were positive our little town was ready for an innovative dining experience and yes, we proved everyone wrong! While we were constantly changing our drink and food menu, profit margins, local live music, and even moved locations, we tried to create a culture with our experienced hospitality employees of "What good is an idea if it remains an idea?", and we listened! On a side note, although we sold the business to have more quality family time, I am proud to report it is still open!
My point is, it has taken a LOT of real-life experiences and different employment situations to better understand what gets me excited and keeps me ticking. A few years ago, I realized I was not working at an organization that was innovative. This organization was riding on one's coattails from the original owner and status quo was good enough for the current leadership team. It was very unsettling and nervous knowing we were not evolving – we were not growing nor did we have a vision for the future. Sure, we were writing new business, but we were also losing business as fast as we were winning. It was not where I wanted to stake claim as a broker and I really didn't know what my next move was. After all, I had clients and I couldn't let them down. I had reached a point that I had no faith in my future and right about then I was introduced to Gibson by a mutual friend.
My first face-to-face meeting with anyone at Gibson was with our CEO, Tim Leman – I thought it was the coolest thing that he took time from his busy day to have coffee with me. After doing some research, comparing options, and reading Tim's book rEvolution: Turn Crisis Into Clarity And Ignite Growth, I accepted an offer to work at Gibson. The book helped me better understand the culture of Gibson and who doesn't want to work for a CEO who wants to IGINTE GROWTH??!!
At Gibson, we have Big Hairy Audacious goals (BHAG) and that excites me! We must be innovative to accomplish these goals. We are living and breathing a culture of WTTMSW: Whoever Tries The Most Stuff Wins (thanks to Tom Peters' The Excellence Dividend for this acronym and innovation inspiration!). Since my time at Gibson, I have made mistakes and so has our leadership team, and that's okay. We are evolving and trying to figure out what tools and resources we need to hit our BHAG.
A perfect example of our innovation and culture was recently receiving an all company email from our CEO explaining our investment into a venture capital firm dedicated to insurtech. This will give us insight into the latest and greatest innovation coming from insurtech startups. I have a feeling we will continue to try new things to be innovate, evolve, and to reach our company goals. After all, if an organization is not growing, they are dying!

What's The Risk?
"Firms that invest time, financial resources, and human capital in innovation can deliver increased value to customers, employees, and owners," - Bart van Ark, Executive Vice President and Chief Economist at The Conference Board.
Without innovation, are you truly able to deliver the best value – to your clients, owners, and employees?
I have a client who was recently recognized in the Indianapolis Business Journal as a FAST25 (2019 Fastest-Growing Company). When completing our GPS process with this client, I asked about their core values. Along with a few other innovative values, "Grow or Die" was mentioned. I remember thinking WOW, this guy is serious about innovation. So, I ask you this - is your organization growing or dying?