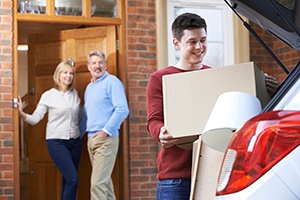 Once your child turns 18, your ability to act on their behalf changes. Their medical history is no longer available and you cannot make medical decisions for them. Even if your child lives at home or is on your health insurance, a parent has no legal authority to make health care decisions nor do they have the right to obtain medical information due to the Privacy Rule of the Health Insurance Portability and Accountability Act (HIPAA).
Accidents are the leading cause of death for young adults, and a quarter-million Americans between 18 and 25 are hospitalized with non-fatal injuries each year. Unfortunately, many parents have found themselves on the receiving end with frightening news. The emergency is made worse with limitations of information and ability to direct care. For some this could mean a parent might need court approval to act on their child's behalf.
To allow parents to help during an emergency, there are three documents a child should sign:
Durable power of attorney (POA)
Health care proxy
HIPAA Release/HIPAA Authorization.
Durable POA
This enables a designated agent (parent(s)/guardian) to make financial decisions on the child's behalf. If the child were to become incapacitated, the durable power of attorney would be able to, for example, sign tax returns, access bank accounts, and pay bills. Durable POA forms vary by state. In some states the medical POA can be included in the durable POA form.
Health Care Proxy
This document is also referred to as a health care agent, medical power of attorney, a health care power of attorney, or durable power of attorney for health care. It authorizes someone to make medical decisions and it gives the designated agent (parent(s)/guardian) access to medical records, and the ability to converse with medical health care providers. A healthcare proxy appoints someone to act on the child's behalf to make medical decisions in case they cannot make those decisions for themselves.
Each state has different laws that govern the execution of a healthcare proxy. Specifically, states differ on whether they require that a medical proxy be notarized or merely witnessed. Therefore, the legal form should be for the state(s) where it will/could be used. In many states, the HIPAA authorization is rolled into the standard medical proxy form.
HIPAA Release/HIPAA Authorization
A HIPAA Release, also known as a HIPAA Authorization, allows health care providers to release and share medical information with designated people. Without a HIPAA form, doctors may choose not to discuss your child's condition with you, although they may decide to do so if they think it's in your child's best interest. Providers' disclosure rules vary, so it's best to have it in writing.

Planning for a medical emergency is not something any parent wants to think about. However, having the essential documents that allow you to be your child's advocate will help alleviate some stress and fear if you ever find yourself in that situation. Stay safe!