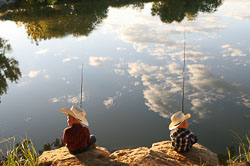 You hear it often in business: work/life balance is important and when it's out of sync it can significantly impact employee engagement and your organization's overall health. Much of it seems to be device and data driven. In this age of instant technology, we have more information than ever before to process and its available 24/7 on our smart phones. Being "smarter" might actually be costing all of us at the end of the day.
We are paying a price personally with fatigue and stress and may not even realize it. A study conducted in 2010 shows that information overload costs American businesses just under $1 trillion in employee time lost to needless email and distractions. As Shelly Smith, our Director of Human Resources told me recently, "There is an expectation to tune in and turn on more, but I wonder if we're getting additional value from it?"
Progressive employers are beginning to implement programs that allow employees to escape from work. It's really a change in their company thinking and culture. Shelly gave me a few examples. Volkswagen has begun turning off some email accounts 30 minutes after shifts end. Goldman Sachs is now urging and encouraging junior staff to take weekends off after an intern at Bank of America passed away from what many theorizes was fatigue that triggered an epileptic seizure. And Quirky, a New York based start-up, has instituted a "blackout" week once a quarter during which no one but customer service representatives are allowed to work.
This is tough for us. We're in a service business. One of our Core Values is We Work Harder. How do we reconcile that? Sometimes I ask our team to think about when they have a plumber over, or cable installer or a contractor, do they like working with those that "work hard" or not? Of course the answer is always that they appreciate hard work, responsiveness, integrity, and attention to quality. Exactly. Does that mean we expect them to work around the clock? No it doesn't. In fact, many will point out that the fresh, well-rested folks perform best.
At Gibson we are going to try something new this summer. We want to do our part to encourage our staff to take time to recharge. While we've long had a generous Paid Time Off (PTO) policy and also support the use of flex time, we recently announced the addition of summer hours beginning in 2014.
We will be closing each Friday during the summer at 3:00 p.m. so that our staff can spend time with family and enjoy the outdoors. We just announced this a few weeks ago and it's been well received as you might imagine. However, there was equal concern from our staff for ensuring we would be available for our clients when they needed us. Almost immediately the brainstorming began on how we could maintain coverage of phone and email to handle the important stuff. It made me proud.
What's The Risk?
Stress and burnout take their toll. If they are normal part of your day, it's time to make a change. On a personal level, as Shelly points out, companies can implement all the programs in the world to assist employees in finding balance, but employees have to do their part too. "It's easy to get caught up in staying late, checking email all weekend, and working on Sunday evenings to get a jumpstart on your week."
Perhaps there are things you can outsource in your daily life. Have your dry cleaning delivered or pay to have your house cleaned. These tasks and errands take time away from your personal pursuits. Schedule time with your family and give it just as much weight as your most important business meeting. Put it in your calendar so that it's a priority. Do the same thing with scheduling your workouts. If it's on your calendar as a set appointment, you're more likely to keep it. And finally, take time for yourself, even if it's just 5 minutes to clear your head. It will make you a better employee and make life better for you and your family.
As our mission says We Protect What Matters Most. Sometimes things happen after 3:00 p.m. on Fridays in the summer. Of course they happen after 5:00 p.m., too. At the end of the day, it's an acknowledgment that we know how hard our staff works throughout the year for our clients. They deserve a break when we can give it to them.