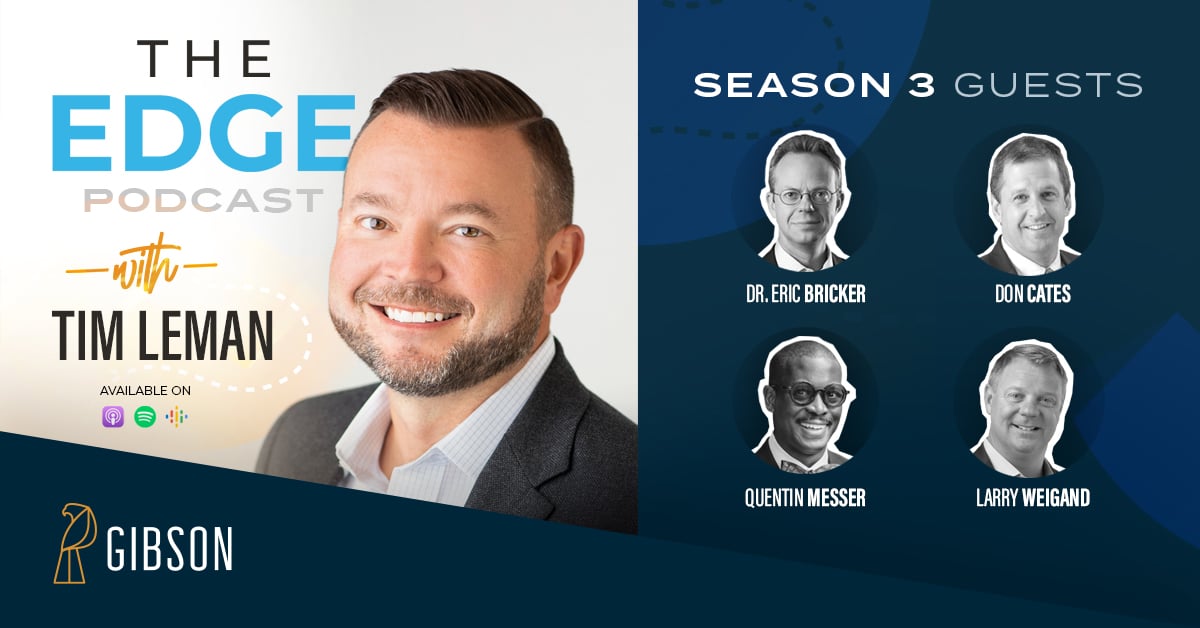 We're excited to introduce a third season of The Edge Podcast!
In this season, host Tim Leman continues to talk with leaders about what it's like to ride the edge and own it. He also digs into what makes for a truly special team.
Tune in as we discuss leading on the edge!
Click the links in the titles below to listen to each episode.
Together with host Tim Leman, Dr. Eric Bricker talks about his journey, which has included hospital finance, M.D., healthcare navigation, telehealth, and more. They discuss entrepreneurship in the healthcare industry, leadership, and the role of virtual care in a world stricken with the pandemic.
Don Cates and host Tim Leman explore lessons learned from Don's childhood on a farm and his leadership journey in the financial industry. Don talks about how the pandemic has challenged his organization, and all of us, to become adaptable and flexible. The two also discuss how Don coaching women's basketball has translated to professional insights and a philosophy that embraces diversity of thought. Additionally, the conversation includes how being intentional about time, choice, and scheduling encourages productivity.
Quentin Messer is the CEO of Michigan Economic Development Corporation (MEDC). He discusses with host Tim Leman how the pandemic has brought a greater focus on place and what that means for not only economic development organizations like MEDC, but for all businesses and each of us personally. They talk about the unique perspectives women bring to his leadership team and how he's worked to create trust on a team of forceful personalities, as well the importance of keeping family at the forefront.
Larry Weigand discusses being the fourth generation of a family business and his role as CEO of the company started by his great grandfather. Together he and host Tim Leman talk about grit, tenacity, and hard work. Larry also explains the importance of simplifying business and doing what you say you're going to do.