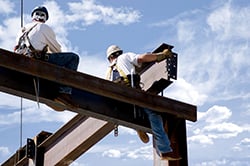 Fall protection for the construction industry has topped the OSHA list of most frequently cited standards year after year. In fact, falls are the leading cause of death in the construction industry with 294 of the 796 fatalities in 2013 being attributed to falls. Yet these fatalities can be prevented. What can you do to protect your employees from fall hazards?
Construction Fall Protection Campaign
To respond to the significant number of fall injuries and deaths, OSHA, along with the National Institute for Occupational Safety and Health (NIOSH) and the National Occupational Research Agenda (NORA) – Construction Sector, created a construction fall protection campaign. It is intended to raise awareness among employers and workers about the dangers of falls. The campaign provides numerous educational materials and training resources about ladder, scaffold, and roof safety, and additional fall protection topics.
The program outlines 3 steps to prevent falls:
PLAN ahead to get the job done safely.

PROVIDE the right equipment.

TRAIN everyone to use the equipment safely.
What Do The OSHA Standards Require Of Employers?
OSHA requires that fall protection be provided by employers when workers are at elevations of 6 feet in construction and 4 feet in general industry. And regardless of the fall distance, OSHA also requires fall protection when working over dangerous machinery or equipment.
For details on the standards, please click the appropriate industry: Construction or Non-Construction
To prevent falls, OSHA requires employers to:
Provide working conditions that are free of known dangers.
Keep floors in work areas in a clean and, so far as possible, a dry condition.
Select and provide required personal protective equipment at no cost to workers.
Train workers about job hazards in a language that they can understand.
Guard every floor hole into which a worker can accidentally walk (using a railing and toe-board or a floor hole cover).
Provide a guard rail and toe-board around every elevated open sided platform, floor, or runway.
Regardless of height, if a worker can fall into or onto dangerous machines or equipment (such as a vat or acid or a conveyor belt) employers must provide guardrails and toe-boards to prevent workers from falling and getting injured.
Other means of fall protection that may be required on certain jobs include safety and harness and line, safety nets, stair railings, and hand rails.
Training
You are responsible for training your workforce on how to recognize hazards and properly use equipment. Be sure to provide appropriate materials for any employees with limited English proficiency. OSHA offers many of its materials in multiple languages.
Through your training efforts, your employees should understand and practice the following:
Understand and recognize potential hazards in your work area.
Keep tools and materials organized and away from edges to eliminate the potential for injury.
Reduce arresting forces by limiting fall distance.
Use deceleration devices to reduce arresting forces and increase stopping distance.
Inspect equipment prior to each use and ensure all protection systems are designed for the work environment.
Resources
There are an abundance of resources available to help prepare your workplace and train your employees on fall protection.