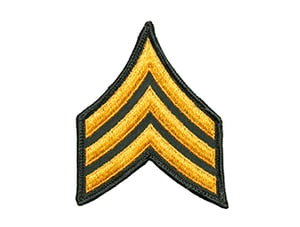 "The sergeant is the Army." ~ Dwight D. Eisenhower
As Tom Peters recounts in The Excellence Dividend, his early years in the Navy taught him how important "first-line chiefs" are to an organization. For Peters, "chiefs" is Navy-speak for Chief Petty Officers, the naval equivalent of sergeant in the Army.
"First-line chiefs are key #1 to organizational effectiveness and we invariably (way) underplay their collective importance," writes Peters. "Not getting this is a strategic mistake of the first order."
Frontline bosses are the main embodiment of corporate culture. They are the champions for excellence and enablers of sustained employee development.

And they are the principal determinants of:
enterprise productivity
employee retention
product/service quality
With this substantial influence that Peters writes about along with research done by Marcus Buckingham and others supporting it, are organizations investing enough in their frontline managers? In an HBR article called The Frontline Advantage, turnaround specialist Fred Hassan doesn't think so: "The managers most responsible for a company's success or failure happen to be the ones with whom the CEO spends the least amount of time."
Reading Peters' book and some related articles like the one above caused me to realize I'm not spending enough time with Gibson's frontline managers. I decided to ask them about life on the frontline. In sharing some of their feedback below, no doubt they're "principal determinants" of so much we're doing as an organization.
Every day my employees are looking for wisdom, approval, and my kindness. Making sure I balance workloads by understanding their capacity and then pushing them (in the right way) results high productivity while maintaining high self-esteem.
I think it's 100% true that people don't leave companies or jobs – they leave managers. We've definitely had some turnover that was due to really great opportunities people couldn't pass up (I can think of at least 3 of those off the top of my head within the last year alone), but the people who were actively looking to leave were those who were leaving their manager. It is a weighty responsibility that shouldn't be taken lightly.
I make sure my team knows I have their back. I'm honest and show trust. I let them know when a client has shown appreciation for their work and service. And whenever necessary, I roll my sleeves up, jump in, and lend a hand.
Not everyone is cut out to be a frontline manager, and we've seen examples of that as well. If you don't LOVE your management or team leader position and the things you get to accomplish every single day for your people, I think you're in the wrong role. Leadership is life-giving to those who truly love it and absolutely draining to those who don't. I believe good management mostly comes from getting the right people in the right seats.
I like to know what pushes their buttons and be understanding about it. I try to be flexible knowing that life, and mistakes, happen. Showing care and concern for their family and what is happening in their personal lives goes a long way.
Everybody on my team needs different types of help and support, I need to be very flexible in my approach if I'm really taking the responsibility seriously.
Leaders have a duty to make sure people are in the right seats. While it may be uncomfortable to have those conversations and to develop a corrective action plan, it is necessary for the health of the team and the entire organization.
I try to lead by example. It's really important to remember how you work, what you work on, when you work are being observed by others.
These are the folks directly responsible for managing the majority of our people and I'm grateful for them. As Hassan writes in the HBR article, "How well frontline managers understand the company's strategy and their own specific role in it will in large part determine whether that strategy is successful. It's the CEO's job to communicate the strategy to them directly and get them to own it."
Peters offers up this gut check when it comes to frontline managers:
Do you absolutely understand and act upon the fact that the first-line boss is the key leadership role in the organization?
Does HR single out the first-line supervisors individually and collectively for special, over-the-top developmental attention?
Do you spend gobs and gobs of time selecting first-line supervisors?
Are you willing, pain notwithstanding, to leave a vacant first-line supervisor slot open until you can fill the slot with someone spectacular?
Do you have the absolute best training and continuing development programs in the industry for first-line supervisors?
Do you formally, rigorously, and continuously mentor first-line supervisors?
Are your first-line supervisors accorded the attention, acknowledgement and respect that the importance of their position merits?
Yikes, I don't pass Tom's litmus test. Do you?

What's The Risk?
Organizations can actually weather the storm caused when a senior leader leaves. But it won't get anywhere without a fully engaged population of frontline managers. It's the job of leadership – the CEO in particular – to commit the necessary time and resources to this key constituency.
Peters recommends two steps toward showing your first-line bosses excellence:
Make it a point this month to spend a big chunk of your quality time with each of your first-line chiefs.
Reallocate 25% of your training and development budget to frontline manager training.
As General Eisenhower might say, frontline managers are the organization. Is there any better investment?