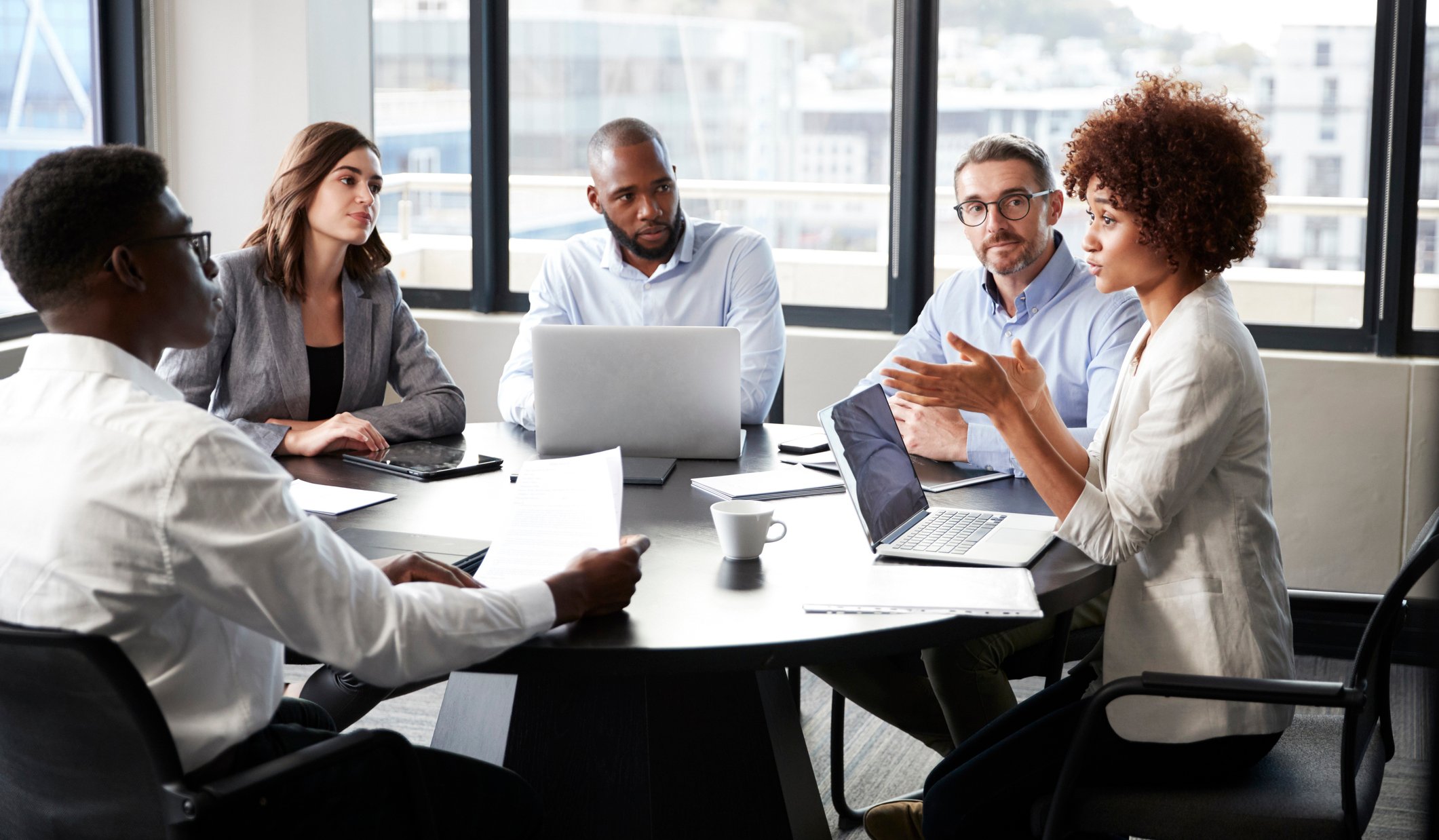 Strong, vibrant corporate cultures create the foundation of every successful organization. At the core of those successful cultures is a business's most valuable asset, its people. Culture sets organizations apart from their competition. It shapes environments where people thrive and do their best work. As a leader, you understand the importance of building and maintaining a positive corporate culture. CEOs and executive teams are the organizational visionaries who create the vision, mission, values and principles a company is built on. The biggest challenge these executives face? Ensuring that the vision cast by executive leaders is successfully implemented.
We believe that successful implementation of corporate vision and culture falls to mid-level managers. The secret to long-term organizational success is investing in those leaders and ensuring they evangelize your corporate culture through example. Let's explore the tools and resources your mid-level managers need to succeed in implementing a great corporate culture.
A Culture of Communication
Great leaders create a culture of communication. In the book Entreleadership, Dave Ramsey calls communication, "the road map to the party." He states, "if you don't have it, it will create a culture of discontent and distrust." It is imperative that you have clarity on expectations and communicate those expectations clearly and often. You may have implemented comprehensive policies, training initiatives, and employee engagement activities but if your mid-level managers are not part of the conversation, they will not have the tools and understanding to convey the appropriate message.
These team leaders are integral to fostering and sustaining a productive work environment, and it's important to give them the resources, acknowledgement, and support they need for success. While executives create the vision, these leaders set the tone for the company culture. They are often the face of your company, interacting directly with customers and employees. As such, their actions have an enormous impact on how others perceive your business.
Creating a Positive Environment
It's essential that mid-level managers create a positive environment within which employees feel comfortable and empowered to do their best work. A great way to do this is by providing clear expectations and guidance without micromanaging or expecting perfection. Encourage them to give frequent feedback, both positive and constructive, so employees know where they stand in relation to expectations. Teach them that conflict doesn't have to be hard or scary and in turn, they will teach that to their teams. Conflict is just another conversation. We'll save this deep dive for another article because it is one that gets a lot of attention in our community because of the challenges leaders have in dealing with it. If you have an open-door policy, make sure your mid-level managers do too—they should be available to talk with employees if needed. Finally, make sure they are approachable, accountable, and friendly; this helps set the tone for a positive work environment.
Leading by Example
Mid-level managers are an extension of your leadership. Their styles might be different, but the intent should be the same. The example you set as a leader, flows to your managers which flows to your frontline employees.
Your example leads to creating an environment of trust, vulnerability, transparency, and open dialogue so you and your leaders can be authentic in sharing honest feedback and receiving innovative ideas. No one wants the meeting after the meeting or a leader who nods their head in agreement and then goes and tells their team we "have" to do this because that is what leadership wants. They need to convey the message of we "get" to and here is the why behind the what.
The Power of Influence
Your mid-level managers are responsible for managing teams of employees, which means they have direct influence over the way their teams work together and interact with other departments. Your leaders need to know their influence matters and they have it whether or not they are intentional about using it effectively. I recently spoke at a company all hands event and I asked the crowd of 100+ leaders: who here believes they have influence at work? Only 10% raised their hands. It was astounding!
Everyone has influence whether you are in a position of leadership or not. Our mid-level managers need to use their influence to help their teams realize the power of individual influence, so it creates that ripple. It is why we encourage leadership development at each level of the organization. One example of using your influence is helping your leaders understand the importance of fostering an inclusive environment—one that encourages collaboration, innovation, and creativity—they will be able to lead by example and set healthy expectations for their team members. Having leaders who understand the value of workplace inclusion leads to higher morale and productivity among all employees.
Employee Engagement
Your mid-level managers should also be focused on employee engagement initiatives like mentoring programs or career development opportunities. It shows your employees that you value their input and encourages them to take ownership of their roles within the organization. Plus, having a mentor on hand helps employees make better decisions around career development plans as well as personal goals they want to achieve while working at your company. It also gives team leaders an opportunity to learn alongside their mentees while developing stronger relationships with them in the process.
Strengthening relationships between mentors and mentees helps address one of the greatest vulnerabilities businesses have today: the disparity between generations. Bridging the generational divide has never been more important. We have up to four generations in the workforce today, all with distinct and differing styles of communication. These differences often lead to major communication breakdowns. To solve this, we encourage business leaders to have a mentor 10-years older and one 10-years younger. You become the bridge for these differing styles and viewpoints, bringing both together.
As retirees leave the workforce, they take with them vast amounts of historical knowledge and experience. That context and knowledge need to be transferred to up-and-coming leaders to maintain business continuity and growth. New generations may not do things exactly the way their predecessors did, but they need context to not lose forward momentum. It is critical that all generations remain open to learning new things from one another and add their own insights and creativity to continuing the mission. Often, your mid-level managers are going to be that bridge between the two. To achieve success at this, everyone needs to listen intently, be open to new perspectives and be patient as you figure out how the old will impact the new.
It's clear that strong mid-level managers are essential for any business looking to foster a positive corporate culture. They are instrumental in influencing how employees interact daily with each other; setting the tone for culture, engaging in effective communication, employee development initiatives; and employee engagement. As a leader of your company, you want your mid-level managers to lead by example so everyone feels respected, valued, and motivated. Investing time into training these managers and team leads on effective management practices will help you create an environment where everyone can thrive.
Giving your employees the opportunity to work harder on themselves than they do on their jobs will allow them to become the best version of themselves, create other great leaders, live their best lives, and have a bigger impact on your bottom line. This leads to your ability to hire, attract, and retain top talent so that you win in business.