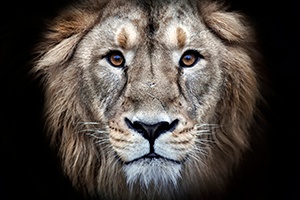 It was christened by Aristotle as the first of all human qualities because he felt it guaranteed the others. Dr. Keshavan Nair called it the "foundation of integrity." And still Hemingway described it as "grace under pressure."
What magical virtue were they referring to? Why courage, of course. It's the mental or moral strength to venture, persevere, and withstand danger, fear, or difficulty.
Today we live in a world much devoid of courage, at least the moral kind. Leaders, friends, parents, spouses, and co-workers – all of us – suffer to some degree when it comes to summoning it. A Forbes article on the topic suggests there are three kinds of courage.
Try: This is courage to take initiative and action, to step up, to attempt new things, and be willing to make mistakes.
Trust: This is courage to have confidence in others, to let go of control, to show faith in people, and be open to direction and change.
Tell: This is the courage of voice, being unafraid to raise difficult issues, share unpopular opinions, and engage others with candor and conviction.
There is no substitute for leading by example. Pause for a minute and think about where you reside on the courage spectrum.
Do you rise to the occasion when tough decisions need to be made or shrink from your duty when it's not going to be popular?
Does your team feel inspired by your confidence in them or do you fear giving up control?
Are you having kind, but candid, conversations with those in your organization that need it or quietly condoning poor behavior?
The good news for all of us is that courage is a learned trait. As Winston Churchill said, "Fear is a reaction. Courage is a decision."
It's time we took a purposeful approach to being more courageous. It's the only way to secure the foundation necessary to support all the other virtues we aspire to in life!


What's The Risk?
Perhaps Ralph Waldo Emerson summed it up best when he wrote:
"Whatever you do, you need courage. Whatever course you decide upon, there is always someone to tell you that you are wrong. There are always difficulties arising that tempt you to believe your critics are right. To map out a course of action and follow it to an end requires some of the same courage that a soldier needs. Peace has its victories, but it takes brave men and women to win them."