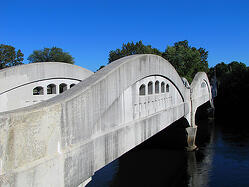 A few weeks ago I was heading to a morning meeting with a client. My home is just off an old federal highway that connects me to their small town about thirty-five miles away. It runs through several "lake villages" and some pretty scenery.
There is also an interstate running east/west between us. It's about five miles south to access the interstate and then another five miles north again to get to their plant. I have always taken the interstate because I know at just under 80 miles per hour I will more than make up the extra distance. It has to be faster and I don't leave time in my schedule for "pretty".
But this particular morning, I just happened to be ready and out the door with plenty of time to spare. I decided to take the old highway. It would chew up that extra time in my schedule that I so seldom have.
Everything just seemed to calm down. I wasn't going through a toll booth and then hitting the accelerator to beat the other guy out. I didn't attempt to pass anyone. Nope, I just cruised along at the same pace as everyone else. I noticed the billboards for the local lake taverns. I noticed the used pontoons for sale. I crossed the river and noticed the old bridge now used for pedestrian traffic. It was really nice.
I thought to myself I need to get out the door a little earlier more often… As I looked down at my watch, I noticed I arrived with plenty of time to spare. I realized that not only was the old highway a lot more enjoyable and relaxed, it was actually just as fast as the interstate route.
This made me think about some discussions and debates I have had with others lately. I found myself unwilling to consider their perspective. It wasn't that I was unwilling to give their idea a shot. Instead it was the fact we were going to take a big risk without leaving any wiggle room if things didn't go as they planned.
This was a lot like trying the old highway. I wouldn't have known the scenic route would be just as fast unless I drove it. But usually, hustling from one meeting to another, I just don't leave myself enough time to try it. I put myself in a position where I always have to play it safe.
What's The Risk?
Playing it safe won't give you the opportunity to try new things. When you're working on new ideas or concepts, with much more risk than being fifteen minutes late to a forgiving client, do everything in your power to mitigate the downside. Oftentimes, you can significantly lower the risk without losing the coveted upside. But you have to plan ahead. You have to leave yourself the "extra time" in case it doesn't go as planned.
So the next time you've got a great idea or something new to try, put the extra thought and effort into making it an easier decision for yourself, your family, or your colleagues. Take on the burden to get it feeling a little safer. Make the calculated adjustments that bring the risk down while maintaining the exciting opportunity for improvement. You might help someone find out, like I did, that the old assumptions were all wrong.
By the way, I know where you can find a 1992 Sylvan with 25 horsepower engine for only $1,300 OBO.