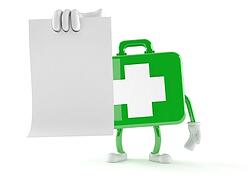 Most large organizations provide health and safety training, but first aid and CPR is often overlooked. The Occupational Safety and Health Administration (OSHA) states: "In the absence of an infirmary, clinic, or hospital in near proximity to the workplace which is used for the treatment of all injured employees, a person or persons shall be adequately trained to render first aid. Adequate first aid supplies shall be readily available." This applies to any industry of any size: construction or general, large or small.
There are four main benefits of making first aid training a requirement in the workplace.
Tailored To The Industry
First aid programs allow your company to tailor training to your workplace, current risk management strategy, financial capability, and industry in which you operate.
For example, a first aid program for a large office will differ from a program for a construction firm. Adopting your own first aid and CPR training means you can ensure the program is current, effective, and focused on the requirements of your business.
Cost
The major expense when opting for first aid training is the right provider and training course. The number of sessions and participants depends entirely on your workplace and number of employees.
In order to cut costs, many companies will designate one or two employees on a floor or within a sector to receive the training. But if you consider the financial effects of workplace injuries – providing training for everyone will reduce accident numbers and severity – having greater financial impact in the long run.
Employee Morale
Employee morale is an integral part of any company. High morale leads to positive attitudes and positive attitudes leads to positive results. The happiness and wellbeing of your employees will help you build a strong relationship, ultimately resulting in a better working environment. First aid and CPR training will help ensure employee health and safety in addition to enhanced wellbeing and morale.
Practical Benefits
First aid and CPR training also has practical benefits, including:
All employees become more safety aware, helping bring down the number of accidents.
First aid and CPR saves lives, particularly where there are grave injuries and it is critical that immediate action is taken. Training gives critical knowledge and confidence to effectively manage an emergency without fear or confusion.
First aid trainees know exactly what's in their first aid kits, how to use the contents, and the various ways to react in an emergency. In a beneficial way, it makes each employee an unofficial health and safety risk manager.
Trainees learn how to perform CPR, use an automated external defibrillator (optional), bandage injuries, and control blood flow – critical skills for emergencies anywhere, not just the workplace. Investing in training also invests in our society.
Providing first aid and CPR training doesn't cost much, but it will go a long way to ensuring workplace health and safety.
If you're considering introducing first aid and CPR training to your workplace, contact us for advice on how to do so.