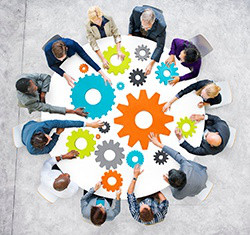 Like the message in Simon Sinek's new book Together Is Better, we humans are so much better when we're working together.
A big part of our client experience at Gibson is serving in the role of "expert guide." Our clients often reach out to us when they're considering a new product line or investigating an acquisition. We help them identify and quantify the risks inherent with these major strategic moves. They also look for our advice in more mundane areas like employment practices and benefit plan eligibility.
They don't expect us to have every answer on the spot. In some cases, emerging risks require new solutions. Other times, their specific circumstances mean we need to do some additional research. What they really want is the right counsel versus worrying about how we source the answer.
We maintain strong relationships with other experts around the country such as labor attorneys, tax accountants, health benefit actuaries, industrial hygiene professionals, HR technology experts, and environmental specialists. Filling the role of expert guide is just one of the reasons we work so hard to foster an environment where collaboration can flourish.
We also find collaboration brings more well-rounded solutions. After a series of random weather and power outage oddities struck our community a few years ago, we put a cross-discipline team together to solve for the disaster recovery needs of local businesses, including our own. It wouldn't have been complete if it was just an insurance plan, or just a technology or data recovery plan. It also needed to address communications, remote work stations, and people practices, to name a few.
Since we made the move to multi-advisor sales teams, we've experienced record growth at Gibson. By sharing the training responsibilities, our teams gain more capacity and the ability to bring on emerging talent. Our clients get more stability, built-in perpetuation, and collective brain power than a single advisor – no matter how talented or experienced – can bring to the table.
Lastly, our ESOP-based employee ownership culture is another driver in why we collaborate. Individual success feels good, but doesn't compare to the sense of accomplishment a shared team victory brings. We all expect our peers at Gibson to do the right thing for our clients and our company. It's bigger than any one of us, and that includes me as the CEO.
Are you missing out on the "collective genius" created by a culture of collaboration? Signs of this could be technical knowledge hoarding or a lack of transparency amongst your team and from your leadership. This might be reinforced by how you evaluate and promote your employees. If all they know are individual rewards versus collective accomplishment, they could be less inclined to share their knowledge and skills with others.
With help from speaker and author Carol Kinsey Goman, here is how you can foster collaboration in your workplace:
Create a shared vision: the more your team knows where the organization is going, why it matters, and what the future looks like for them, the more at ease they'll be collaborating with others.
Build trust through transparency: open your books, acknowledge your faults, and get feedback from your team.
Set clear expectations on specific projects: help establish roles within your team and be clear about the outcome you desire.
Encourage and respect diversity: differences in experience, opinion, background, and thinking style will bring about the best solutions.
Provide opportunities to interact: through a combination of social, cloud, and technology tools, as well as face-to-face meetings, give your team opportunities to build relationships throughout your entire organization.

What's The Risk?
The risk is thinking we can go it alone. As Carol writes in another article:
We're witnessing the death of "Superman" or "Wonder Woman" leadership model, where one person comes in with all the answers to save the day. We now know that no leader, regardless of how brilliant and talented, is smarter than the collective genius of the workforce.
In other words, collaboration is crucial to your leadership success. What will you do to foster collaboration in your workplace?