Flashback Friday: Originally published in 2013, this blog is crowd favorite and one of my personal favorites - lessons from my now 98 year old grandma. Next month she'll celebrate her 99th birthday!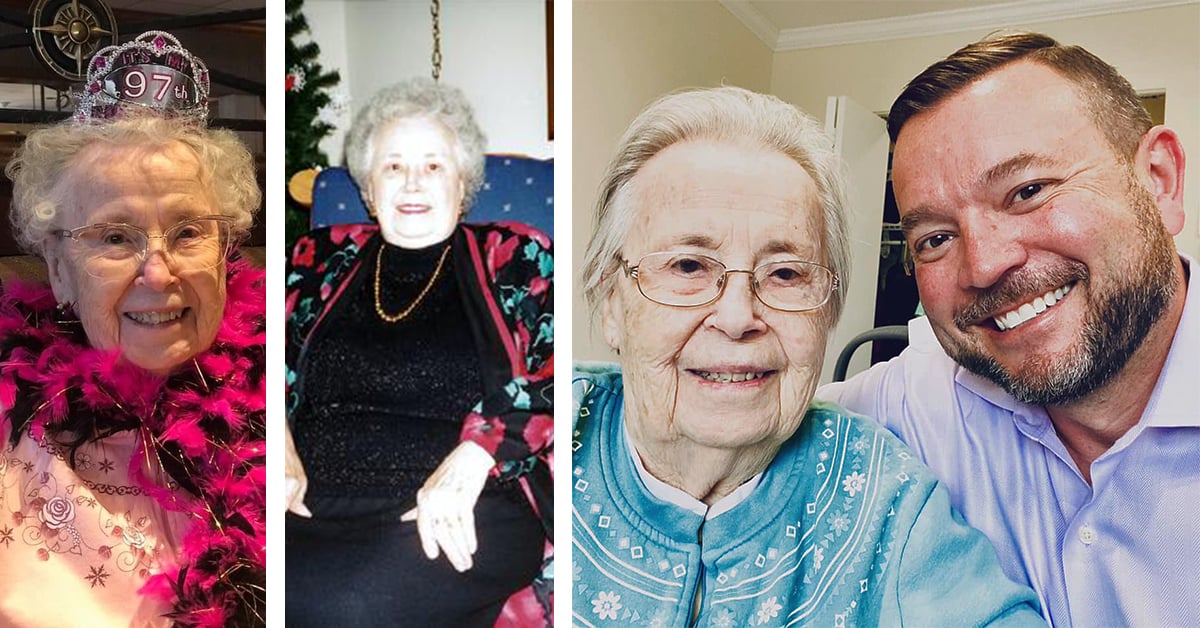 With Grandparent's Day on Sunday, I want to honor my last living grandparent, ninety year old Dorothy Gerber. Not only is Grandma Dorothy an amazing woman, she also is officially the biggest and most devoted fan of my blog.
She devotedly commented on my first ever stab at blogging. It was entitled "Defining and Living Core Beliefs" from January 30, 2013. Using her original free Juno email handle from the early 1990s, she found her way to my site and then posted this: "Good job Tim. I am proud of you and Gibson."
By July 19, 2013, on my blog entitled "Candor: A Mentor's Gift", she had stepped up her comments: "My, Tim, you were so fortunate to have the mentors you did. And you have learned so much! Now, what are you going to do with it? You have a responsibility now, do you not? Grandma"
Talk about an accountability partner! Who needs executive coaches if Grandma is holding your feet to the fire?
Of course, I still think it has something to do with her feeling a little left out when I didn't specifically name her in my Mother's Day tribute blog. She had this to say: "Tim, how can you forget your 90 year old Grandma? Don't you remember the many trips your parents took and I took off work to take care of you – even the time you pulled the toaster off the tray onto your face and got burned!!! I still love you and am proud of you. Grandma Gerber"
Dorothy Bee was born and raised in Cambridge, Massachusetts. Her father died when she was only four years old. She graduated from high school at 17 and soon met my Grandfather. He was studying for his Master's degree in music at Harvard. She didn't go to college but instead helped support him as he went through seminary and started their family.
At age 26, she and my Grandpa went to Latin America. They spent the next 18 years in Ecuador, Argentina, Costa Rica, and Mexico as Baptist missionaries. In fact my mother speaks fluent Spanish to this day. I'm pretty sure I was the only kid at Leo (Ft. Wayne, Indiana) Elementary who enjoyed a fine Latin American dish for dinner on a weekly basis.
They returned to the States from Mexico in 1967. Grandma worked as an administrative assistant to a number of executives in the missions area. She stayed working until 1993, when she retired for good at age 70. She has observed a number of leaders and leadership styles first-hand over the years, which adds another dimension to her comments on my blog!
She just celebrated her 90th birthday on March 12th of this year. She and my Grandpa, who passed away in 2009 after 68 years of marriage, remained devoted to their church and service to others. They had 5 children, 16 grandchildren and 28 great-grandchildren.
I've taken a little razzing from friends and colleagues for this "blogging thing" I've been doing since January. While they poke fun from time-to-time, one noticed how often Grandma was posting comments on my blog. He said, "Tim, I see a Grandma blog in your future" and that's all it took for me to spring into action. Upon pitching the idea to her, Grandma doubted she had anything folks would find interesting, I know differently.
So without further adieu, here are Dorothy Gerber's Top 10 Life Lessons:
Life never stops bringing you opportunities to help others even if only in words of encouragement.
Change in old age is very difficult unless you have accepted it and experienced it in your younger years.
Whatever it takes, stay physically fit by walking, swimming, and exercising your body.
Challenge your mind constantly but be willing to accept the fact that memory loss occurs over time for yourself and others as you age.
Don't ever let technology pass you up. Always have a computer at your fingertips and a cell phone in your pocket so that you can have good communication with friends, children, grandchildren, and great grandchildren.
Always be available to listen. People will be drawn to you when you exhibit this wonderful quality.
You are never too old to have a social life. Even in old age (if your body allows you to) eat out, go to a ball game, play cards, celebrate birthdays, visit family, and go to concerts.
Always have a good book ready to pick up when there are quiet moments. Audio books are great when your vision fails.
A person who regularly attends church, reads the Bible, and prays will find the greatest joys in life.
Most importantly, never give up!
Grandma said the following quote by Dr. Charles Swindoll sums up how she feels about life:
"The longer I live, the more I realize the impact of attitude on life. Attitude, to me, is more important than facts. It is more important than the past, than education, than money, than circumstances, than failures, than successes, than what other people think or say or do. It is more important than appearance, giftedness or skill. It will make or break a company... a church... a home.
The remarkable thing is we have a choice every day regarding the attitude we will embrace for that day. We cannot change our past... we cannot change the fact that people will act in a certain way. We cannot change the inevitable. The only thing we can do is play on the one string we have, and that is our attitude... I am convinced that life is 10% what happens to me and 90% how I react to it."
What's The Risk?

If you're lucky enough like I am to have a "Grandma Dorothy" in your life, don't miss a chance to get their words of wisdom written down.It's a good reminder that the answers and wisdom you're looking for aren't just at "B School", in an industry designation, or a trendy blog. I've seen a lot of Top 10 lists, but perhaps none where the author so closely followed their own advice and is living proof of the result.
Thank you Grandma for your constant encouragement and for sharing your words of wisdom with us.