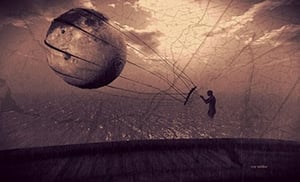 "There is no education like adversity." ~ Benjamin Disraeli
Things have come easier for one of my sons over much of his life. If you're a parent with multiple children, I'm sure you can relate. I'd say he's at least a "B+" at most anything he tries and when he works at, he gets himself into the "A" zone. That's one of the things I respect about him. In spite of a natural ease he often seems to have, he also applies himself diligently, rarely giving less than a 100% effort.
Things didn't go his way at school recently. He unexpectedly lost a close election for President of his class. This is a role he's held for three years. And the resulting musical chairs for the general student council left him without a seat. While I would never wish it upon him, and was rooting for him all the way, I know this loss will carry with it a much greater return than another victory would have.
What we learn about ourselves when the chips are down far outweighs anything we get while riding high. And those lessons learned or missed follow us into adulthood where grit, resilience, and perseverance seem to be in short supply these days.
A recent Building Learning Power post had this to say:
We humans have a tendency to be lazy. We like things to be easy; for ideas to come into our minds quickly; to get jobs done and out of the way. So being able to stick at something, however tricky, and in a range of circumstances for a long time is a skill or habit we have to learn to accomplish over time. We have to accumulate strategies; to be turned on by our own effort and to know how to manage our learning environment. It's a valuable life skill, not just one for the classroom. Such habits aren't just missing one day and established the next. They develop through a finely balanced development process, with the help of teachers and parents and life's circumstances over time.
The last time my son faced something similar was 7th grade, when he was cut from the basketball team. "You can't tell me he's not one of the twelve best boys in his class!" his mother exclaimed at the time. Yes, we thought the coach made a mistake. In support of our son, we could have blamed the coach or the circumstances. We could have let him feel like he got a raw deal. But he heard none of this from us. Instead, we left the decision up to him. Either put in the extra work required to improve his skills – to the point there was no question he deserved a roster spot – or give up on playing basketball for his school. He got busy getting better. By the time he was a sophomore, he had earned a starting role and was named captain of the team.


What's The Risk?
Too many people are reaching the workforce never having faced real adversity in their lives. They've been sheltered from the pain but also the resulting pride and confidence that comes when we claw our way back. They don't know what it's like to see something through to completion, instead choosing to move on quickly when they perceive things aren't going their way.
As parents and teachers, we need to provide rigorous learning opportunities in these not-so-soft skills - like handling adversity - just as much as we do math, science, and English. We have to reserve the safety nets for true life and death situations. Or as Big Sean might advise, it's okay if you take an "L" as long as you bounce back!
And as employers, it's not too late for our teams to develop this characteristic. So, I must ask... How resilient is your leadership example? What happens when you have a down year? Do you blame outside circumstances "beyond our control" or do you resolve to get better as an organization?
Over breakfast last week, I reminded my son how basketball had turned out for him several years ago. He looked up at me with a big grin, nodding his head slowly in agreement. I could tell he was already moving on. In fact, his attention was on the latest book he's reading for English class. "It's something by Ernest Hemingway," he said, recalling our spring break visit a few years ago to Hemingway's home in Key West, Florida.
As my mind followed his to Hemingway, I thought of this line from A Farewell To Arms: "The world breaks everyone and afterward many are strong at the broken places." So true. Don't be afraid to enter the danger. A little adversity might just make you stronger.