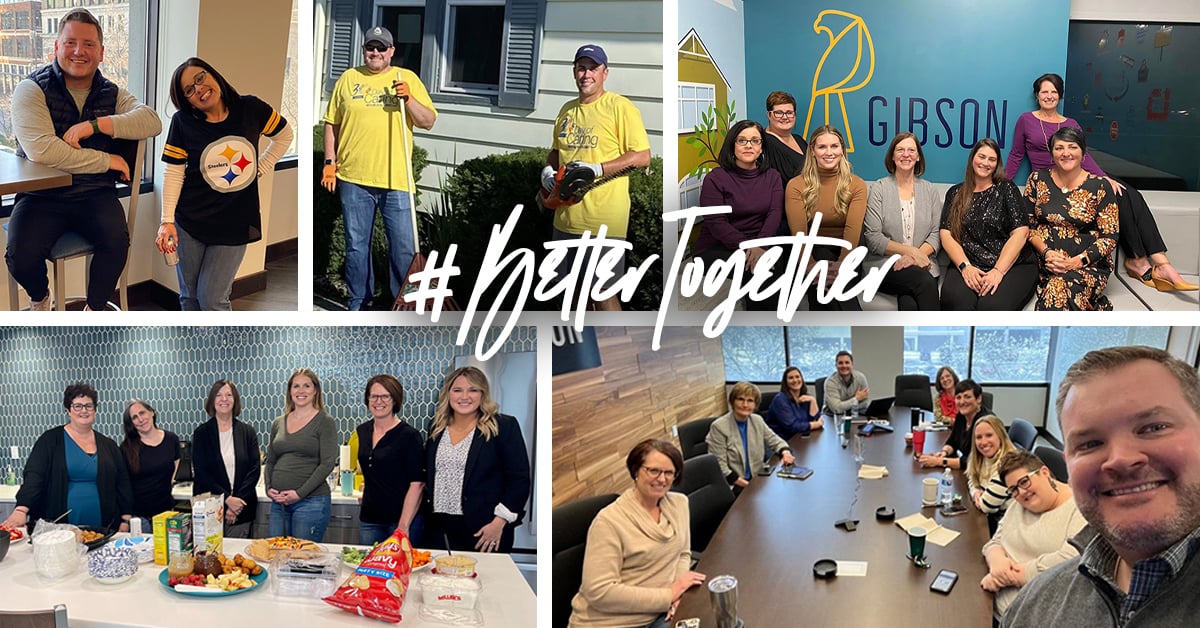 We've been talking a lot about what it means to be better together this year at Gibson. It has me reflecting on what brought me here three years ago and how instrumental our collective teamwork model has been to me.

Being part of a team has allowed me to thrive. It has allowed me to focus on doing what I am most passionate about - acting as a liaison between HR, employees, and the rest of our consulting team to be their collective voice and elevate the role of HR and how it's viewed within an organization.
In my previous experiences, I worked mostly independently, and while I was able to get things done, I often felt like I was missing out on something.
What is it that makes working in a team so special? How are we better because of our teams?
Here are a few of the ways I've seen the power of teams in action:
Teams allow us to share ideas and knowledge.
I have had the pleasure of working alongside Chris Niezer, who serves as our market leader. Although Chris may not admit it yet, we're like brothers...or at least distant cousins. Chris comes from a legacy of insurance knowledge and has been incredible to get to know. Our team structure not only encourages Chris to share his experience with others, but it fosters that collaboration in all aspects of our work.

By working with others who have different areas of expertise, I have been able to learn from them and to develop new skills that I might not have been able to otherwise. By working together, you can achieve more than you ever could on your own. At Gibson we play for each other, it is one of our core values, and we are without a doubt stronger when we work together.


Working as a team allows you to provide a stronger resource for those you serve.
Our team structure allows us to provide clients with the thought leadership and intellectual capital of not just one person, but the combined strength of the entire Gibson bench!

Our clients get to work with a team of consultants who bring in their expertise from a variety of areas. For employee benefits that might mean your team includes someone with an HR background, another team member with experience at an insurance carrier, an individual who completed an intensive industry training program (we have 3 Health Rosetta Advisors!), and yet another with healthcare expertise (we even have an RN on staff!) – all working together to provide the best possible service.


Teams provide a support system – to help you grow both professionally and personally.
The trust we've developed from working in a team has not only provided support and encouragement professionally, but it has played a big role personally. Having lost my last remaining parent late last year, I found the Gibson family behind me, offering me support and encouragement when I needed it most. This kind of support is invaluable, and it's something that can only be achieved through a strong sense of trust and camaraderie.


#BetterTogether
Regardless of your industry or role, these same concepts are true. Teams are powerful! You don't have to go it alone. By joining forces with others, you can achieve great things and make a real difference in the world.