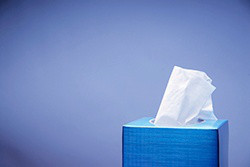 It's officially fall! Cooler weather is on its way, leaves will be changing colors, football season has begun, and the highly coveted pumpkin-flavored items have returned to menus everywhere!
But fall also means the start of flu season...
How can the flu impact your workforce? What can you do to help prepare your employees and encourage wellbeing?
The Impact Of The Flu
Not only is the flu a threat to our health, but also to the wellbeing and productivity of our organizations.
Your company culture should make employees feel comfortable staying home when sick. Although some may consider coming to work regardless of how you feel a show of dedication, it can actually be very counterproductive! When your employees feel under the weather they are often less productive, they risk spreading illness to colleagues, and they can be hindering their own recovery by not taking time to get well.


Encouraging Wellbeing During Flu Season
The flu vaccine is considered the most effective way to protect from the flu. The Centers for Disease Control and Prevention (CDC) recommends everyone ages 6 months and older to get a flu vaccine annually. With flu season generally beginning in October and peaking between December and March, the CDC encourages vaccination by the end of October.
As part of your workplace wellbeing efforts you can consider offering an on-site flu shot clinic to make it quick and easy for your employees to get the vaccine. You could also offer a voucher program that allows employees to get vaccinated at a local pharmacy. Perhaps a combination of these two methods would work for your company – provide an opportunity for flu shots on-site, but also offer a voucher for anyone unavailable those days or who works remotely.
What else can you do to prepare your workforce?
Educate employees about flu symptoms, how the virus is spread, and what they can do to prevent getting sick. Also help make sure they understand the difference between colds and the flu.
Encourage increased hygiene. Though it seems like common sense to cover your coughs and sneezes and to wash your hands often, they are still important reminders. The flu can be spread through these methods even before you start feeling symptoms. Keep disinfecting wipes handy to clean frequently touched surfaces like door knobs, keyboards, and phones. Provide tissues, hand sanitizers, and other supplies to promote healthy hygiene.
Communicate with employees to review company policies regarding sick leave and working from home. You don't want sick employees coming into the workplace and risking the health of coworkers, so make sure they know their options. If your organization wants to encourage working from home when not feeling well, make sure to arm employees with the necessary technology for working remotely.
Remind employees of the details of their health insurance plans so they are prepared should they get the flu – what their coverage details are, how to find an in-network doctor, etc.
Help foster employee wellbeing by encouraging healthy behaviors this flu season!