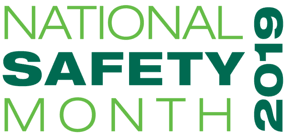 June is National Safety Month. While workplace and home safety are important every day of the year, the National Safety Council (NSC) specially focuses on safety during the month of June to help educate the public. Highlighting the following four themes throughout the month, the NSC aims to reduce the leading causes of injury and death – at home and in your workplace.
Slips, Trips, and Fall
Keep your home and workplace safe by taking action to prevent slipping, trips, and falls.
Fatigue
37% of the U.S. workforce is sleep deprived. Proper sleep allows us to recharge and avoid injuries at home and at work.
Hazard Recognition
One of the "root causes" of injuries, illnesses, and incidents is the failure to identify or recognize hazards that are present, or that could have been anticipated.
Impairment
We often think of impairment as a result of substance use or in terms of addiction or dependence to alcohol or drugs (used legally or illegally). However, impairment can be the result of various situations, including many that are temporary or short term.
Even though June is National Safety Month, don't forget to prioritize safety all year long!