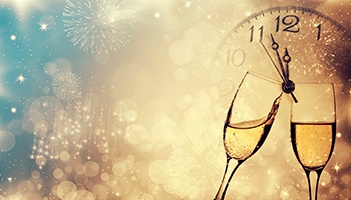 Don't let the new year get off to a bad start! Keep safety in mind to ensure you, your family, and your friends have an accident-free New Year's Eve celebration!
Safety At Home
If you're hosting a gathering at your house to celebrate, it is important to protect yourself from potential liability and be a responsible host.
As your guests arrive, make sure everyone has a designated driver or a place to stay once the night is over. If someone commits to being a DD, keep track of their alcohol intake to ensure they will be okay to drive.
If you're burning candles, be sure to extinguish them when you leave a room or before you turn in for the night.
Double checking the smoke alarms before a New Year's Eve party is a must! Make sure alarms are working and the batteries are fresh.
Avoiding Dangers Downtown
If you're planning on hitting the town this New Year's Eve, consider the following safety tips:
If you're with a group, stick together. We all know New Year's can get a little hectic, but with a little extra attention you can make sure you're not spending your night out alone.
Keep tabs on your stuff. Don't leave belongings out in the open or tucked in places where they could easily fall out. This includes when at a bar or a party, as well as in your vehicle.
And of course, monitor your alcohol intake, be aware of your limits. Most importantly, don't drink and drive. Remember, even buzzed driving is drunk driving!
Keeping Your Fireworks Hazard-Free
If you're going to be breaking out the firecrackers in honor of the new year, it is especially important to keep safety on the top of your list!
Know the laws. State and local laws may place restrictions on when you can use fireworks.
Fireworks can spell trouble for furry friends. If your pet gets spooked at the sound of fireworks, make sure they're contained in a safe, secure area where they can't try to run away. This also ensures they won't break or cause damage to valuables in your home or to themselves.
Follow safety protocols (click here for a list of tips) and keep a fire extinguisher handy to prevent a mishap from spiraling out of control.
From everyone at Gibson, we wish you a safe and happy New Year's!