"I believe that emotion eats reason for breakfast." – author & entrepreneur Tim Leberecht
As Tom Peters writes in The Excellence Dividend, a focus on design is "Differentiator #1" for organizations, inside and out. It's about creating a "lasting emotional connection that engenders no less than love."
Start with your own organization. What kind of emotions do the following mainstays inspire?
Your reception area
The restrooms
Your space for nursing mothers
Every answered phone call
Every electronic (or paper) form
Every email
Every meeting agenda
Every new services proposal
Every core process manual
Every square foot of every facility
Every contact with a client
At Gibson, we were missing the mark. Our South Bend office space no longer met the needs of our people, and especially our overwhelmingly female population. It was inspiring more frustration than love. This played a big role in our decision to move into new space recently in DTSB, and a commitment over the next three years to ensure all our facilities are Class A.
I can tell you that in the three months in our new space, it's quite literally engendering love. From the views, the bright spaces and sunshine, the wellness rooms and a room for nursing moms complete with a comfy chair, a sink, and a refrigerator, I see many smiles!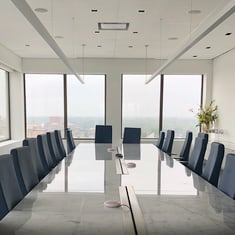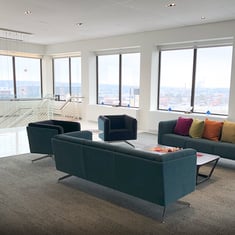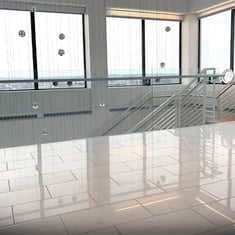 It's also why our marketing team is embarking on a project with the help of our partners at Element Three to clean up the look, feel, functionality, and design of our expansive library of forms, proposals, and checklists, as well as our website and online presence.
As Steve Jobs once said, "Design is the fundamental soul of a man-made creation." As he stressed it's not about "the veneer," but rather the emotions generated by the interaction.
Speaking of interactions, how are you doing with your clients? So much of design thinking and "radical humanization" runs counter to what is taught by the leading B-Schools.
Author Rick Karlgaard makes this point in a story about Nest founder Tony Fadell in his book The Soft Edge. Fadell once admitted that, "Every business school in the world would flunk you if you came out with a business plan that said, 'Oh, by the way, we're going to design and fabricate our own screws at an exponentially higher cost than it would cost to buy them.'"
But as Karlgaard goes on to point out, "These aren't just screws. Like the thermometer itself, they're better screws, epic screws, screws with dare I say it, deeper meaning. Functionally, they utilize a specific thread pattern that allows them to go into any surface, from wood to plaster to thin sheet metal. And the [custom] screwdriver feels balanced to the hand; it has the Nest logo on it and looks 'Nest-y,' just like everything from Apple looks 'Apple-y.'"
Whoa. How many of us have a client experience delivering this type of emotional connection?

What's The Risk?
It will be this type of radical humanization of your products and services that will keep you in the game and beyond the reach of being AI'd out of existence. Ease of use matters. Great design creates more smiles. Beautiful lines hook us.
Peters says it well, "There are still far too many who don't get it, who remain oblivious to the allure of great design and who are unaware of how the tiniest design boo-boo can enrage a customer. Great design moves mountains and vaults market share to the heavens. I think that's pretty much always been the case, but a design emphasis today is many, many times more important than in the past. In the age of ubiquitous robotics and algorithmic this and algorithmic that, standing out from the crowd is getting tougher and tougher. Well, I think standing up and standing out can be done."