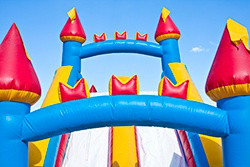 Planning school-sponsored functions is no easy feat. From fundraisers to carnivals to award ceremonies, special events have many items to coordinate. The checklist can include food, activities, volunteers, venue, performances—it goes on and on. But when making a list, check it twice: are insurance and risk management on there?
Even with the most meticulous planning, accidents can still happen and it is important to be prepared in order to mitigate risk. In no particular order, these are some questions you should answer before you kick off your event:


Does your insurance cover the event?
Your general liability policy may not be enough to properly cover a special event. The event may be held at an offsite location that requires different insurance than you carry. There could be activities outside the scope of your normal business operations that aren't covered under your current policy. Or the "one-off" nature of an event may make it preferable to carry a separate policy. In these cases, a special event policy may help fill the gaps or protect you from the unique risks associated with special events.
When planning a function, reach out to your risk advisor for guidance. Let them know the basics – what type of event, where it will be held, how many attendees you anticipate. They can direct you on whether your event falls within your current policies or if you need to start an application for a special event policy.


If an outside but affiliated organization is sponsoring the event, will the school's policy cover the organization?
Many special events are organized and managed by organizations affiliated with the school, such as foundations, PTOs, student clubs, or booster clubs. They may use school facilities for the event and spread information about it using school resources. But that doesn't mean the organization and its volunteers will be covered under the school's policy.
Because these organizations benefit schools, schools often want to assure that the organizations are covered under the school's insurance policy. But different policies treat affiliated organizations differently. Some don't automatically include coverage for these organizations. Other require the school to "specifically authorize" the organization. You should check with your risk advisor to assure your policy does what you expect it to.


How can you assure vendors involved with the event have sufficient coverage?
From food to alcohol to bounce houses, special events often involve outside vendors. Their activities will be best covered by insurance underwritten for their business. And they should maintain sufficient coverage for those activities.
To assure a vendor assumes responsibility for its activities, you should insist on a written contract that includes appropriate risk transfer language, including specific insurance requirements and indemnification for the school. The contract should also include a requirement that the school be named as an additional insured for purposes of the vendor's activities at the event and a waiver of subrogation clause. The clause will protect the school from a claim by the vendor's insurance company. Your attorney should review the contract for legal considerations, but your risk advisor may be best positioned to make sure the insurance requirements make sense from an insurance industry perspective. Your risk advisor can also help you determine what limits of insurance will be sufficient for the event.
Finally, to assure that a vendor carries the insurance required under the contract, you should request appropriate certificates of insurance. The certificate should be near enough in time to the event—within 30 days—that the insurance isn't likely to expire before the event. The certificate should reflect the type of insurance and limits required under the contract as well as whether the school is named as an additional insured under the policy.


What other strategies should you consider to make the evenT as safe as possible?
Better than covering an accident after it happens is avoiding it all together. So in addition to making sure your school is covered for the event, you should consider appropriate risk management strategies before you have the event.
For example, many school events have bounce houses. As fun as they may be, bounce houses can be part of some terrible accidents. It is important to find out what safety procedures the vendor has in place and what industry guidelines they follow. Some level of expertise in securing the inflatable, as well as monitoring and operating it, is recommended—something the vendor is likely best suited for. And you may want to implement some safety rules around it. Similar considerations are appropriate for other activities too involving physical activity.
How you set up for an event matters too. You should avoid blocking exits or creating trip hazards with cords; overcrowding rooms, hallways, or auditoriums; and hanging decorations from light fixtures. Depending on the nature of the event, it may be appropriate to have EMTs available in case of an incident. Tasking someone with raising safety concerns—just as certain people are tasked with invitations, games, or sponsors—can help assure that these and other similar concerns are addressed. If the school has a dedicated safety director, he or she should be consulted. Often your risk advisor can help as well.


Ultimately, it is vital to make insurance and risk management part of your planning process. Treat an event like an investment—similar to a car or a house; you wouldn't skip coverage for those assets, would you? Reach out to your risk advisor for advice and guidance to ensure your school, students, volunteers, and guests are properly protected at all events.