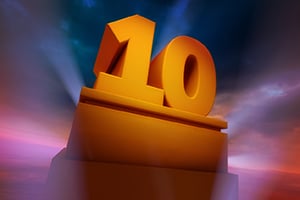 As we wrap up another year of blogging, I'd like to share some thanks. To our guest bloggers - thank you for sharing your insight and wisdom with us throughout the year! And to all of our readers - thank you for reading and sharing these blogs with others!
Here are the most popular #WhatsTheRisk blogs of 2018:
Click the title to read the full blog.
by Brad Serf, Principal at Gibson
Iconic experiences and great organizations don't just happen by chance. And seeking to understand these massively successful organizations and experiences may help us all achieve our own level of greatness.
by Jim Canfield, Managing Director at CEO Tools
As the company grows, it requires a different approach for the leader. Knowing when to apply each leadership styles is a crucial skill.
by Adam Kronk, Head of School for La Lumiere School in LaPorte, Indiana
The road to hell is supposedly paved with good intentions. But perhaps the road to a more satisfying life and career—one we'd each be prouder of—depends on the very same thing.
by Tim Leman, Chairman & CEO at Gibson
'The role of a leader is to create a space where our people can become more than they've ever been before, more than they've dreamed of being.' Based on this definition, what's your grade as a leader?
by Tim Leman, Chairman & CEO at Gibson
How do you move away from "The Doctor Is In" approach to a healthier and more productive workplace?
by Tim Leman, Chairman & CEO at Gibson
Leaders, are you able to bridge the duality of pragmatic optimism?
by Tim Leman, Chairman & CEO at Gibson
The next time someone pops in unexpectedly, shuts the door behind them and nervously asks, "You got a minute?" take a deep breath and remember, it's not about you. This is their moment.
by Tim Leman, Chairman & CEO at Gibson
A can-do attitude combined with one's best effort is an unbeatable human combination.
by Charles Rogel, Senior Consultant & VP of Product Development at DecisionWise.
The best investment you can make is in the development of your leaders and their ability to engage their employees.
by Tim Leman, Chairman & CEO at Gibson
What we learn about ourselves when the chips are down far outweighs anything we get while riding high. And those lessons learned or missed follow us into adulthood where grit, resilience, and perseverance seem to be in short supply these days.
Thank you to all our bloggers and readers for making this another great year. I'm looking forward to 2019!
If you are interested in contributing to the Gibson blog, please send us an email.