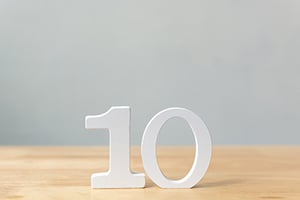 Hard to believe we've been sharing #WhatsTheRisk blogs for nearly 7 years! As we wrap up this year of blogging, I'd like to share my gratitude. Thank you to our guest bloggers for sharing their insight with us! And to all of our readers - thank you for reading and sharing these blogs with others!
Here are the most popular #WhatsTheRisk blogs of 2019:
Click the title to read the full blog.
by Tim Leman, Chairman & CEO at Gibson
It's about creating a 'lasting emotional connection that engenders no less than love.'
by Gravitas Impact Premium Coaches
Why is execution such an impossible task for businesses?
by Brian Souders, Risk Advisor at Gibson
Is your organization growing or dying? Without innovation, are you truly able to deliver the best value – to your clients, owners, and employees?
by Nicole MacLean, Director of Relationship Marketing at Emplify
Being proactive when one of these triggers arises will help you minimize impact and keep employee engagement high.
by Jennifer Magley, Coach, Public Speaker, Author, and Entrepreneur
Yes and No are great mechanisms and binary choices of response. Sure is the verbal equivalent of someday or maybe. If you are looking to make a change in your life consider making this micro-shift and watch what happens when your yes is yes and your no is no.
by Adam Weber, Co-Founder of Emplify
The biggest difference between the old school executive and the modern leader is how they view their employees and their expectations for their workforce.
by Tim Leman, Chairman & CEO at Gibson
Stay focused, maintain your discipline, but don't forget that growth cures most ills. Will you cut or spend your way to prosperity?
by Tim Leman, Chairman & CEO at Gibson
It's time to rethink lunch. Ask out new people from your organization. Get together with a manager from another department. Maybe meet up with a supplier or even a competitor. Just don't miss out on those 225 "sacred at bats"!
by Tim Leman, Chairman & CEO at Gibson
What does it mean for employers to really put people first?
by Tim Leman, Chairman & CEO at Gibson
Are you positioned to capitalize on luck when it comes your way?
Thank you to all our bloggers and readers for making this an excellent year. I'm looking forward to 2020!
If you are interested in contributing to the Gibson blog, please send us an email.