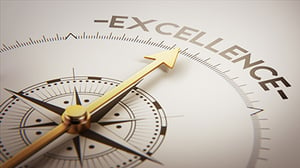 If you've been following my Friday leadership blog posts in 2019, you've likely noticed a common thread: excellence. We focused on lessons from Tom Peters' The Excellence Dividend, with particular attention on these 12 "No. 1s," - not only with my blogs, but also within Gibson.
As the year comes to an end, it is a good opportunity to recap these topics. Even if you don't have time to read all 12 blogs, I'd encourage you to spend 5 minutes reading 1 of these posts because as Peters says, "Excellence is the next five minutes"…
(Click each header to open up the specific blog post)


Establishing/maintaining a culture of excellence by putting people first, really first. You must approach this by realizing your clients will never be any happier than your people.
When strategies fail, it's usually due to poor execution. Many companies suffer a huge gap between great ideas and actual results.
Frontline bosses are the main embodiment of corporate culture. They are the champions for excellence and enablers of sustained employee development.
If you're not out on the floor with your team, visiting with clients, and talking to suppliers, you won't really have a good handle on what's going on in your organization and industry.
America needs its SMEs. They are the job creators. They drive innovation. They are important suppliers and key customers. In short, they are what Peters calls the secret backbone of our economy.
Not reading enough = Leader Deficit #1. Reading books is such an important tool to learn new things but also to test your understanding and beliefs. And it's what allows you to remain relevant.
Great training produces more wins, better retention, and lower turnover. And it's more important now – in the Age of Digital Disruption – than ever before.
Without innovation, are you truly able to deliver the best value – to your clients, owners, and employees?
It's time to rethink lunch. Ask out new people from your organization. Get together with a manager from another department. Maybe meet up with a supplier or even a competitor. Just don't miss out on those 225 "sacred at bats"!
Treating your clients well by investing in new and better solutions and attracting, growing, and retaining the best talent in the market can't be accomplished through spending cuts. It requires investment.
I think we all know listening is important, but are we treating it as Peters says, "the bedrock of leadership excellence," and thus giving it the attention it deserves? Are we truly being effective listeners?
It's about creating a 'lasting emotional connection that engenders no less than love.'

What's The Risk?
Having a theme to shape the year's blogs and internal efforts has been great. It has allowed me to focus my own learning and leadership efforts, as well as help our people do the same. But the risk is in letting it all end when the new year begins. Don't!
As 2019 and our Excellence theme comes to an end, my hope is that we continue to put these important lessons into practice, while also adding to our arsenal of knowledge and tools. A new theme is coming in 2020, are you ready for it?